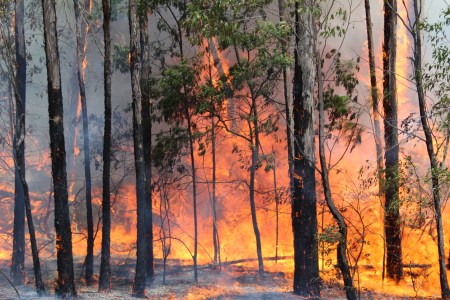 Breweries and cideries across Australia have been facing the country's devastating fires over the past months, with many supported by and supporting their communities and the rest of the industry.
High Country
The High Country experienced serious fires over the past few weeks, with many towns and villages being completely evacuated.
"We thought we had lost the whole village (with our home and our business) Saturday when the CFA had to withdraw from Dinner Plain to Mt Hotham due to hazardous conditions on the ground," Mark Hubbard, founder of Blizzard Brewing, told Beer & Brewer. "Thankfully they were able to return and find a village still intact to defend. We are not out of the woods yet, but still punching."
Bright Brewery has been closed since Thursday 2 January and will remain so until further notice. While the immediate fire threat has passed, the smoke and air quality remain at a hazardous level and other fires are still burning.
"Conditions are expected to get very bad again later this week," Laura Gray, marketing manager of Bright Brewery, told Beer & Brewer. "The real problem right now is the smoke and air quality – it's at a "hazardous" level in Bright, so many people can not return home. We are not reopening the venue until things improve.
"However, we have got our wholesale side of the business back up and running and are now really relying on that to help pull us through."
In a statement on its Facebook page, the High Country Brewery Trail stated:
"It's been a tough week for the brewers of the High Country Brewery Trail. At writing, we are all safe. Some of us are still under threat. Our hearts go out to those less fortunate than us. Many of us owe a debt of gratitude to Emergency Services and the CFA for protecting our venues and communities. There are plans to offer a token of our appreciation in kind, by supplying a refreshing, cold reward for this heroic service.
"If you would like to support those impacted by the bush fires, you have a chance to do so with the brewers of the High Country Brewery Trail. Even better, your support need not be in the form of charity, but rather simple commerce!

"1. Ask your local to consider a tap takeover of delicious hand made beer from High Country Brewery Trail brewers. Or to just stock our products. Karma Kegs with a difference – no charity involved, just commercial support for businesses and families impacted by the bush fires. Businesses and families that produce premium, award winning products.

"2. Support your local that supports us!

"3. When safe to do so, take a road trip and visit the brewers of the High Country Brewery Trail and their communities. Arrive thirsty (and hungry). Leave with takeaways. Enjoy our hospitality, the undiminished beauty of our location, and our product. You will be glad you did."
In Kosciuszko, the brewery remains open. While roads to Jindabyne were open on Tuesday, Thredbo was only open to permanent residents.
"We are planning the Kosci Beer Fest again this year – 7,8 Feb 2020," says Chuck Hahn, brewmaster at Kosciuszko and Lion. "It will probably be reduced somewhat in scale due to these fires. I guess everyone is finding it so hard to believe that it is taking us months to get on top of this situation. Hopefully, the commitment of additional resources and funding will get us there."
Regional NSW
In New South Wales' Southern Highlands, there has been considerable damage from fires, with the flames coming within 4km of Southern Highlands Brewing on the night of Saturday 3 January. Until recently, access to the brewery was lost.
Eden Brewery has also witnessed the devastation, with "customers and close friends" losing homes, although the brewery itself remains intact.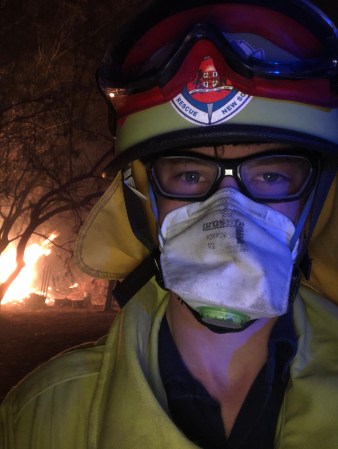 The brewery's lead brewer Kelly Colyn has returned to work after spending a week working as a firey in a strike team at Bateman Bay.
"We've just been doing our part supplying the local fireys with cases of beer to stay hydrated and our vacuum insulated growlers for water supplies," Eden founder Jacob Newman told Beer & Brewer. "We're also planning a big fundraising effort, with our new IPA release this Friday, raising money for people who have taken losses in the fires.
"It's really encouraging to see other parts of our brewing family in Sydney doing what they can to raise funds for those of us out here in the sticks doing it tough."
In the Blue Mountains, Hillbilly Cider had almost finished a new cellar food venue, featuring a restaurant, seating area and outdoor garden, when the fires hit Bilpin in December 2019.
Founder Shane Mclaughlin and a friend defended the cidery's new venue from the fires with a couple of hoses.
"The whole of Bilpin got hit at once and there were not enough trucks to answer every single emergency simultaneously," Tessa Mclaughlin told Beer & Brewer. "The RFS the next morning said it was a miracle that the shed survived.
"So we've lost a couple of weeks of momentum – as you can imagine between the new shed and our home orchard property which also had fire. Shane did nothing but fight fires for two weeks. We've also lost a good month of income during what should have been peak Christmas sales.
"Our message like others in Bilpin is to please come up and support the area – stay at B&Bs, eat at local restaurants, visit cellar doors, etc."
Given the devastation in the Bilpin area, Sean Prendergast of Bilpin Cider told Beer & Brewer that the cidery was fortunate to suffer only a small amount of burning around one of its orchards.
"In short, we at the Bilpin Cider Co farm were very lucky. The area around Bilpin suffered significant damage with business and personal property affected however we were very lucky to avoid damage other than some burning around one of our orchards that will not impact in any significant way on our fruit or cider production."
South Australia
At the time of writing, the fires that have devastated the vineyards of the Adelaide Hills appear to be under control.
Prancing Pony, which saw the fires come within 8km of the brewery, noted that "cooler weather and some overnight rain" had helped, but that the situation wasn't over yet.
Lobethal Bierhaus was spared from the fires and its founder Alistair Turnbull told Beer & Brewer that he is hoping that things can return to normal.
"While it is considerable and will make things tight for us, we have largely only lost revenue," he said. "It is our hope that tourism will return to normal in our region and support the many businesses that in a number of cases were far worse impacted than us."
Kangaroo Island has been particularly badly hit, with a third of the island already having been burnt. While Kangaroo Island Brewery itself wasn't directly affected, founder Mike Holden stressed the toll that the fires have had and will continue to have on the island.
"Yes, these fires have taken almost 50% of the island but we still have amazing places to visit. Don't cancel plans to come to KI, keep coming and encourage others to get across. The land will replenish and right now we need tourists to keep our economy afloat. Our brewery wasn't directly affected, but already we are feeling the hurt of this."
Hops and barley
As well as affecting breweries, the fires have had a considerable impact on the agricultural industry, on which the brewing industry rests.
Fires threatened communities in Victoria's Buffalo River Valley, including new hop gardens and a processing complex belonging to Hop Products Australia (HPA).
"Residents were evacuated further up the valley, above where we are located, and the smoke was very intense," Owen Johnston, sales and marketing at HPA, told Beer & Brewer. "Importantly, the people are safe and no damage was done to the farm."
The hop crop is currently safe and "at the right growth stages you would want at this time of year". Crucially, hops are not affected by the 'smoke taint' that has damaged grape harvests in the Adelaide Hills and the Hunter Valley.
"There are more challenges to come, as I'm not aware of significant rain forecast," Johnston, added. "Water restrictions are likely, but we believe we are adequately covered with water rights and stored water reserves on farm."
Supporting businesses and producers through this difficult times and visiting them when it is safe is the best thing we can all do. If you have any stories about breweries, cideries and the fires, please email me so I can add to this story – cwhitting@intermedia.com.au.