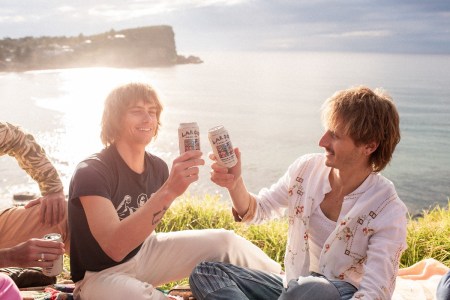 Lime Cordiale's Louis and Oli Leimbach (pictured in that order above) have been busy composing their next hit but it's not what fans of the Aussie long-haired brothers might expect.
Dropping just in time for summer, the Triple J Hottest 100 veterans have taken their love of an easy drinking lager and desire to feel good about the choices they make to create Largo Brewing. Their range includes a sessionable Clean Lager and a low-carb mid-strength variant, The Dawdler.
Crisp and clean in more ways than one, Largo Brewing has been developed by Louis and Oli to not only be bloody tasty but to also leave a positive mark on the planet thanks to its Carbon Neutral status.
Lime Cordiale knew the process of creating a Carbon Neutral beer would have its challenges, but the band, who regularly offset their touring footprint by purchasing Carbon Credits, were committed to balancing Largo's carbon footprint while creating a genuinely tasty beer.
"We love bringing people together whether it's putting on a show, planning a trip up the coast, or brewing crackable beers for any occasion. That's how we'd like to be forgotten; as creators of a good time with little harm done to the environment. Whether you're a music lover or just want to drink a beer, we hope you're on the same page when it comes to making greener decisions that respect mother nature," Oli said.
To become Carbon Neutral, Largo Brewing reduced carbon emissions in the brewing process by taking steps like skipping an energy consuming filtration process, using a percentage of unmalted barley to save energy and working with a brewery that has solar panels on the roof and sends leftover grain to local cattle farmers.
The carbon that is still produced from creating Largo Brewing was calculated and offset by purchasing highly credible Australian Carbon Credit Units that are reducing or removing emissions elsewhere. Largo Brewing partnered with Green Collar to invest in a project that is improving biodiversity and contributing to ecosystem regeneration within the Darling River Basin.
Thanks to these carbon reducing measures, the Largo Brewing range has been certified Carbon Neutral by Australia's initiative for climate action Climate Active, one of the most rigorous Carbon Neutral certification authorities in the world.
Largo Brewing's Climate Neutral credentials are not the only aspect of the new beer range that has been infused with Lime Cordiale's unique, surf-rock energy. Stoked to bring Largo to market in a truly authentic way, every Largo tinnie features Louis' distinct, hand-made artwork while the beer's name tells the story of two of the brother's great loves – music and surf.
"Largo has a lot of us inside it. While the word Largo in music means "slow", it holds another nostalgic meaning for us too," explained Louis. "When we're not touring, there's nowhere we'd rather be than surfing 'til dark. That's what we did growing up and that's what we call a Late ARvo Glass Off. What's better than taking it slow with a beer to top it all off?"
Largo Brewing is on sale at BWS, Dan Murphy's, Jimmy Brings and selected venues across the country.
This is an edited version of a media release distributed by Largo Brewing.