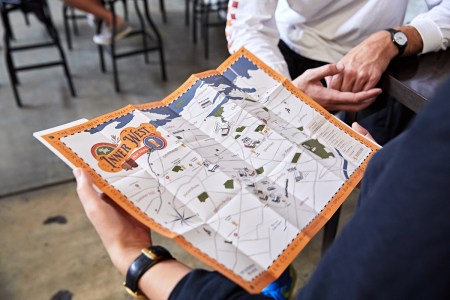 The Inner West Ale Trail project celebrates the 12 independent craft breweries who make their neck of the woods arguably the craft beer capital of Australia. In the first of what will be a continuing series around Australia, Nemesia Dale-Cully provides a definitive guide to one of the Emerald City's best destinations.
---
The Inner West Ale Trail is a Sydney institution. So much so Albo even name dropped it in his Christmas message to his constituents! People come from all over Sydney and the world to visit Marrickville – the craft beer capital of Australia (if you ask me!). But the Inner West Ale Trail is not just Marrickville – it spans from St Peters all the way to Rozelle – with 12 stops along the way – and even a tour operator to get you there and back again.
The trail has seen a number of iterations since its inception. The original was the brainchild of Batch Brewing co-founder Andrew Fineran in 2017 when it had just six stops. But more recently, the idea got picked up by artist and proud Inner Westie Peita Blythe and taken digital. In 2021, the reimagined Inner West Ale Trail was launched by the Inner West Brewery Association (IWBA), Inner West Council and Peita who approached the IWBA in 2019 and pitched the idea of designing a map for the Ale Trail.
"I wanted to celebrate the Inner West, to really encourage people to explore and see what it has to offer," Peita said, who is pictured below on the right with Inner West Ale Trail website designer Vanessa Brewster.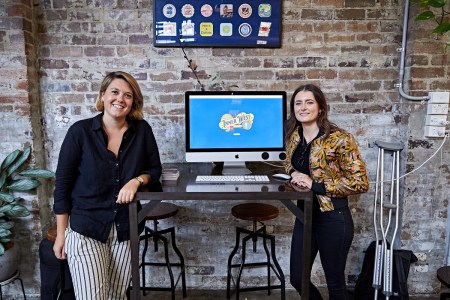 Peita and the IWBA were able to secure a My Community Project grant from the NSW Government and with this investment the Trail has had the ability to grow from a static map to an interactive project that offers a range of methods of engagement.
Mike Clarke, head of the IWBA and owner of Ale Trail location Sauce Brewing said: "The Inner West Ale Trail has become a true destination. It brings people into the area and our taprooms. They come for one but visit several. So, we are all, in a way, feeding and promoting each other's businesses".
The project has received support from Marrickville mayor Darcy Byrne, as well as several local elected members with Jo Haylen, member for Summer Hill, calling it "a great business resource to help Inner Westies shop and drink local".
Today the trail includes 12 independent breweries, a tour company and 11 supporter venues. Alongside Peita's original map design, there's the website which features an interactive map by Cartisan, printed paper maps and floor decals marking the trail all over the Inner West. The next step is a mural on the corner of Edgeware and Enmore Roads, a great spot for reaching the masses because, as Peita mused, "all Inner Westies will know, you get stuck there in traffic so often!".
---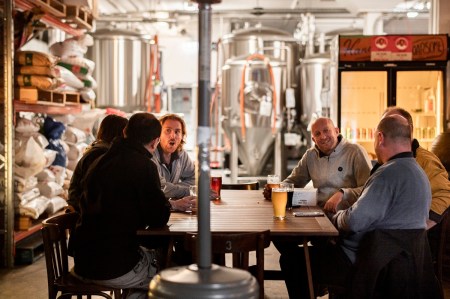 Willie the Boatman
Tucked away in a precinct described as "a vibrant hub for Inner West creative and business communities", Willie the Boatman can be tricky to find but it's worth the effort. A mere stroll from Sydenham train station, the space is full of natural light, thriving greenery and nautical decorations. It's the perfect place to set sail on your Inner West Ale Trail adventure (sorry for the pun) and with 12 taps showcasing a mixture of core range products and limited edition beers, there should be something for everyone. It is of course obligatory to try "The Albo" Pale Ale while you're in the Division of Grayndler and if you're feeling more adventurous, maybe a Nitro Gummy Bear Sour or a Dill Pickle Seltzer. Willie's also offer a range of bar snacks (or you can order in), so you can grab a paddle or a couple of schooners and get yourself on the way.
Precinct 75 Suite 601, 75 Mary Street, St Peters
willietheboatman.com
---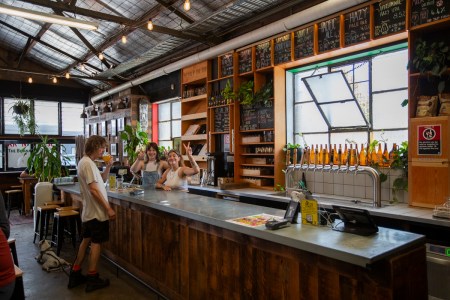 Batch Brewing
Next stop is a true cornerstone of the Sydney craft beer scene. Batch shows up twice on the Trail but for now we're talking the OG Marrickville institution. This long, narrow ex-panel beater's shop has grown a lot in the last 10 years. In the early days you might've been sat at a bar formed out of pallets. These days, it's timber panelling and zinc, but the heart and soul of the space remains the same. Perch up in the front window with a view of the hustle and bustle of Sydenham Road and you might find you lose a few hours (and become an expert plane spotter)! Grab a tasting paddle and work your way through the 10 taps on offer, but definitely don't leave without having an Elsie the Milk Stout (regardless of what the weather's doing!). Thursday to Sunday there'll be a rotating list of food trucks to feed you, and on other days you're welcome to order in – I recommend asking the bar staff for their hot tips.
44 Sydenham Road, Marrickville
batchbrewingco.com.au
---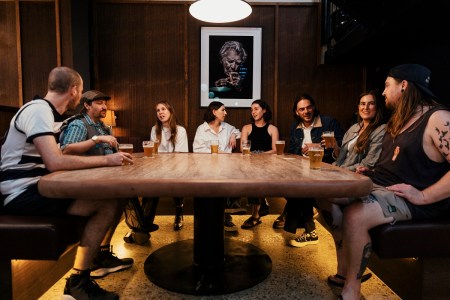 Hawke's Brewing
Despite feeling like you've just jumped back in time to a 1980s RSL, Hawke's Brewing's Bob Hawke Beer & Leisure Centre is still less than a year old and a new addition to the Inner West Ale Trail. Where else could you drink an ice-cold schooner under the watchful eye of an 120 kilogram golden prawn? You've got a range of spots to pick from at Hawke's – from the Public Bar (for maximum RSL vibes) to the RJLH Pool Room (modelled on the one in Bob's former Northbridge home) or the upstairs Ansett Bar. Not to be overlooked is the Lucky Prawn Chinese restaurant – offering up a range of classic and prawn-focussed appetizers (order the dumplings), a healthy range of vegetarian options and classics such as sweet and sour pork and sizzling beef. Also, if you're feeling luxe – go for the deep fried Viennetta. Oh yeah – drinks! The bar offers the Hawke's core range products as well as a number of one-hit wonder releases, a fun little list of Australian wines, and a number of cocktails.
8-12 Sydney Street, Marrickville
hawkesbrewing.com
---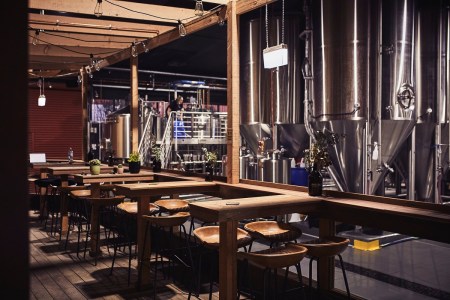 Philter Brewing
The only venue in Marrickville to boast its own open air rooftop beer garden – the 80s resort-style space known as Marrickville Springs – Philter is unsurprisingly a popular destination for the masses. You can drink a frozen beer cocktail on the roof and pretend you're in Palm Springs, or you can settle into the Public Bar downstairs for a pint of one of the classics (is there anything better than an ice cold XPA on a hot day?) or something new and limited from the tap list. Want to see behind the scenes of this yoghurt factory turned brewery? Philter offer tours every Saturday and Sunday at several times, but ensure you book via the website to secure a spot. There is an extensive food menu featuring ingredients from producers around Marrickville, offering a range of snacks for sharing, smaller plates, pizzas and the classic beer drinking food – wings.
92-98 Sydenham Rd, Marrickville
philterbrewing.com
---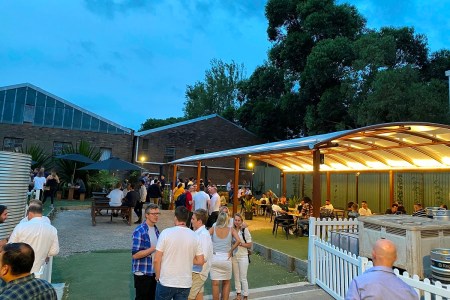 Sauce Brewing
The beer garden at Sauce is the place you want to be on a sunny day. Flanked by warehouses all around, you'll have to venture down a driveway and through a carpark to find the entry to this spot. Wander through the warehouse (past the bar of course) and out to the beer garden and you'll be pleasantly surprised by the extensive, grassy, foliage-filled beer garden. The beers at Sauce focus on offering something for everyone, while still pushing the boundaries with plenty of experimental beers. But it's not just beers. They also offer a number of wines, cider and frozen cocktails. Make sure you try the frozen margarita. With a rotating list of food trucks on site you'll always have something to snack on.
1a Mitchell Street, Marrickville
sauce.beer
---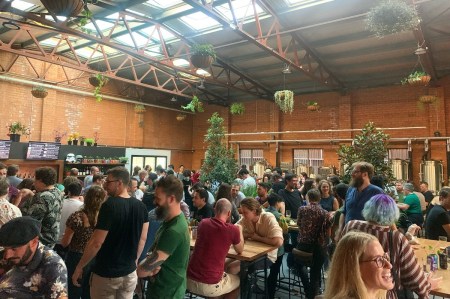 Mixtape Brewing & Bar
Another new addition to the Marrickville beer scene, Mixtape opened their doors in early 2022. A lush, plant-filled red brick warehouse space with a range of seating options from comfy couches to large, shared tables, you can enjoy a beer from their 18 taps as you overlook probably the cutest brewhouse in all of Marrickville – at just 300 litres. The focus here is more on being a brewpub rather than a commercial brewery, offering a range of "house beers" but also a plethora of ones from other producers across Australia. Not only this but some 50-plus natural wines and a healthy (and ever growing) whiskey collection. Did someone say boilermakers? You can find a full kitchen at Mixtape too, with a rotating menu of classic drinking snacks.
142a Victoria Road, Marrickville
mixtapebrewing.com.au
---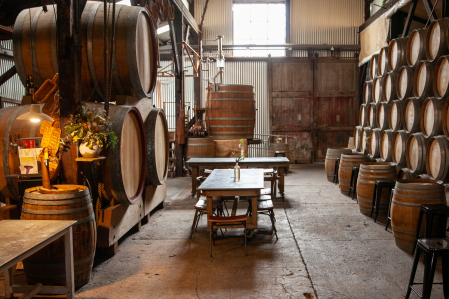 Wildflower Brewing & Blending
Meander down Brompton Street and in between a warehouse yard full of trucks, a florist and a fish factory you'll find the oasis that is Wildflower. Housed in a converted 1900s metal foundry, co-owner and head brewer Topher Boehm once described it to me as feeling like "your loungeroom, if your loungeroom was full of barrels". A cosy little space, Wildflower offers 13 taps of ales to choose from. Made from regenerative organic grains and fermented with wild yeast and bacteria derived from native flowers that Topher himself foraged from all around NSW, the beers here are very unique to anything else you'll try on the trail. But if you're willing to try something new, the friendly and knowledgeable staff* will happily walk you through your options. Not your speed? There are also wines on offer, as well as several local non-alcoholic options. The in-house snack offering by Hot Luck Club is not to be missed. The menu changes week-to-week, but you can be assured that there will always be fries and Korean fried chicken with "hot honey" made from Malfroy's Gold honey infused with Wildflower beer and Habanero peppers.
*I might be a little biased as I am one of the aforementioned staff!
11-13 Brompton Street, Marrickville
wildflowerbeer.com
---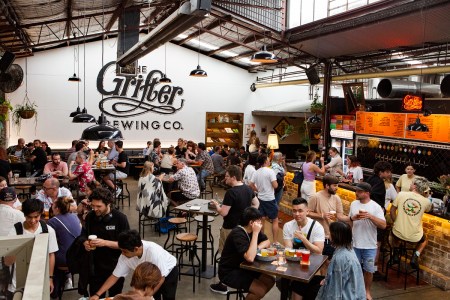 The Grifter Brewing Co
You'd be forgiven for walking straight past this hidden gem – but it's certainly not to be missed so keep your eyes peeled for the giant Waratah and you'll know you're in the right place! Tucked underneath Enmore Road in an ex-commercial laundry, you'll soon see why The Grifter is the people's beer of Sydney. No detail has been overlooked in this venue. Part owner Trent Evans also happens to be behind skate brand Pass~Port and this influence is evident in the brewery's exceptional branding and merchandise. With 12 taps that offer a consistent core range (ask the bartender for an orange goblin) and rotating seasonal beers and limited releases, there is something for everyone – including the non-drinkers, as there are always cans from local friends Heaps Normal in the fridge. If you're peckish, you can snack on some of the best tacos in Sydney, thanks to the Rico's Tacos food truck. Be sure to get a game of pool in while you're there too.
1/391-397 Enmore Road, Marrickville
thegrifter.com.au
---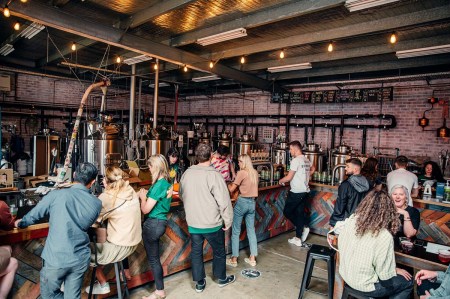 Small Batch
If drinking beers in a carpark doesn't sound like a good time to you, you've clearly never visited Small Batch. An oasis hidden behind the Public House Petersham, here you'll find some of the weirder and more wonderful creations from the brewers at Batch. If that's not your style, they also offer the usual core range suspects, as well as access to the full bar menu from the Public House if you need to break up your beers with a cocktail or a wine (check out the natural wine list). If you're walking the trail, you've undoubtedly worked up an appetite by now so be sure to take a peek at the Public House food menu as well. Think sexy pub food with an Italian twist – and a healthy offering for the vegetarians and vegans among us (and some excellent pizza names).
292 Stanmore Road, Petersham
batchbrewingco.com.au/petersham
---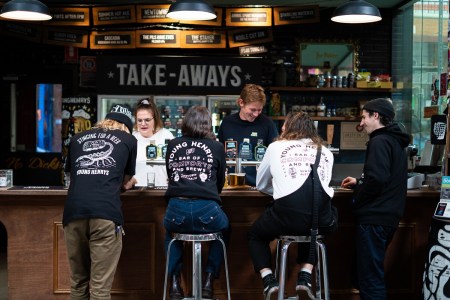 Young Henrys
It's an Inner West rite of passage to drink a pint of Newtowner from the source at Young Henrys. They are truly the founding fathers of the NSW craft beer scene and their HQ is a remarkably cosy warehouse space (10 years of murals, posters and memorablia will do that to a place) where you can perch up and spend a whole afternoon very easily. Young Henrys are avid supporters of the Australian music scene so you can guarantee the music will always be good and aside from their classic beers, the place provides a great opportunity to get your hands on some of their limited releases from the Brewer's B-Sides series. Sit solo and while away your time admiring the shiny stainless in the brewery through the giant windows or bring some mates and take over a long table for the afternoon.
76 Wilford St, Newtown
younghenrys.com
---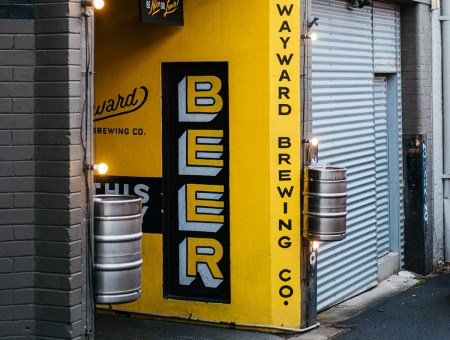 Wayward Brewing
Hidden down a laneway in Camperdown, you can "get lost on purpose", as Wayward suggest, in their taproom which offers 24 taps of rotating beer, cider and seltzers seven days a week. Wines, spirits, non-alcs and cocktails are available too if you're after a palate refresh or a break from the booze. In the shadow of a neon Wayward logo you'll be surrounded by exposed brick, pops of yellow and empty kegs repurposed into light fittings. Their in-house food truck offers a range of classic burgers and some Mexican inspired dishes with lots of vegetarian, vegan and gluten free options. If you want to get a peek behind the scenes, brewery tours run every Saturday and Sunday at 2pm too.
1 Gehrig Lane, Camperdown
wayward.com.au
---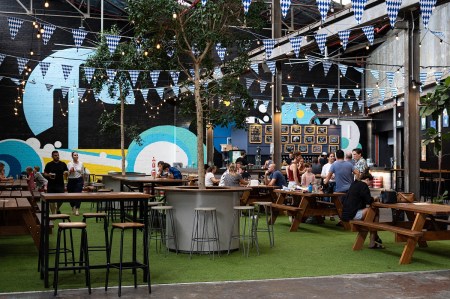 White Bay Beer Co
Over on the Balmain Peninsula is probably the most exciting new kid on the brewery block. White Bay have rightfully been making waves in the industry with their excellent product, but particularly their range of lagers. Their core range Lager recently won Champion Independent Beer at the 2022 Independent Beer Awards. Sit and sip one – from the correct glassware of course – and you'll see why. This might be the furthest brewery on the trail from Marrickville but it is definitely worth the journey. Follow the A-frames from Mullen Street down to this 150-year-old steel mill-turned-taproom and you'll be rewarded with a massive, light-filled space adorned with Oktoberfest bunting, plenty of plants and walls covered in colourful murals. They offer 13 taps of rotating White Bay beers along with wines, and cider. A Gantry Crane Czech-style pilsner and a Balmain Velvet schwarzbier are a must. Bar snacks are always available, as well as a roster of local food trucks offering something delicious to pair with your beer.
26c Mansfield Street, Rozelle
whitebay.beer
---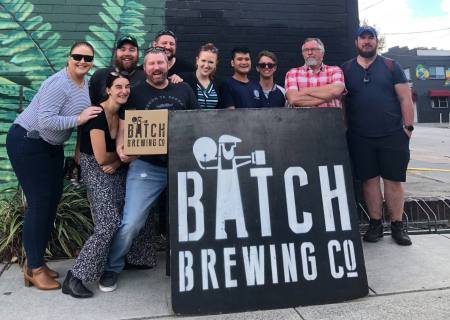 Dave's Brewery Tours
If you want to take the stress out of deciding which of these wonderful breweries you want to visit, Dave's Brewery Tours can help. They offer small group walking tours of Marrickville on Thursdays, Fridays and Sundays where an expert local guide will take you to three breweries in the area. Your guide will offer a history of beer and talk you through the ingredients and process. Tours also include a technical tour of each of the breweries and a beer tasting. Which breweries the tour visits change every day. They also offer tours of other areas of Sydney if you're keen to check out other breweries, pubs and venues.
daves.com.au
---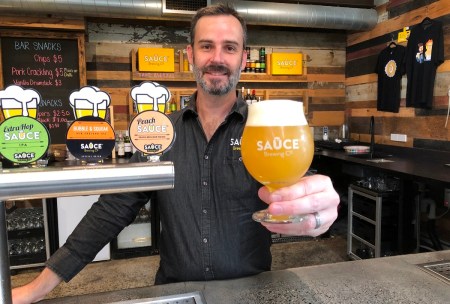 Planning your Ale Trail adventure
IWBA head and Sauce Brewing owner Mike Clarke (pictured) dishes up the tips for making the most of all the Trail has to offer:
Have a loose plan for which breweries you want to visit on the day. You're never going to make all 13, nor should you. Four per day is a good number, so if you're a Sydney-ite, that's three weekend's worth of activities sorted! If you're from out of town, you might like to make a long weekend of it.
Be prepared for busy venues on a Saturday. If you favour a more relaxed experience or want to have an in-depth conversation with your bartender about the beers, try a Friday evening or a Sunday.
Be sensible! Drink plenty of water, eat, take a break when you need it. Breweries have worked hard to build a reputation for being welcoming, community-based, family-friendly venues. If you're looking for a wild piss-up, somewhere to yell at sports on the TV, or a place to punch on, there are other places you can go for that. Basically, don't be a dick.
If you really like any of the breweries you visit, next time you're out in a pub, bar or bottle shop, show them some support by purchasing their products. It's the sale of these beers out in the wider world that keeps the brewery alive and the taproom humming.
The majority of the breweries on the trail welcome well trained dogs, so bring your furry friends along. Put your sneakers on and call it exercise! See how many Ale Trail footpath decals you can count on your walk. If you get to 200, you have well and truly smashed your step goal for the day.
And the most important tip of all is have fun! No two visits to the Ale Trail, or any of its breweries, will ever be the same, thanks to the wide and ever-changing variety of beers (and other stuff) on offer.
---
Check back in soon where we'll continue our definitive looks at Australian beer destinations by soaking up all the Collingwood Beer Trail has to offer.
This feature first appeared in the Autumn 2023 edition of Beer & Brewer magazine. For articles just like it, and plenty more besides, subscribe to the magazine here.