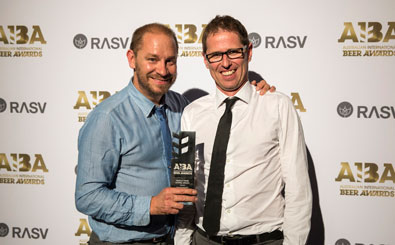 Mountain Goat Beer announced on Monday that Asahi Holdings (Australia) had taken a 100 per cent ownership stake in the company, with Asahi's Matt Grix named as the new Mountain Goat general manager.
Grix, who joined Asahi three years ago and worked at CUB prior to that, will work alongside Mountain Goat co-founders Dave Bonighton and Cam Hines, who have been keen to stress they will remain with the business.
"We're sticking around. We want to ensure focus remains on the beer: on its quality of course, but also to continue to innovate and collaborate with other passionate members of the craft beer community. This was a key aspect of the sale for both sides," the two said in a statement.
"Mountain Goat will continue to operate as a stand-alone business. Our brewers will continue to brew beer in Richmond, and the bar will remain open Wed & Fri nights as usual."
For many in the industry, the announcement came as little surprise – with Mountain Goat contract partners with Asahi for three years, rumours of an acquisition have been around for some time.
Still, many craft purists will react with dismay at the news that one of the standard bearers for the craft beer sector here has been snapped up by a brewing behemoth.
For its part, the CBIA responded by acknowledging the considerable role Bonighton and Hines have played in Australia's craft beer industry and in the growth of the CBIA itself.
"Through their hard work, Cam and Dave did much to lay the groundwork for the momentum enjoyed by the craft beer sector today. As well as building a great beer business, both men have played leading roles in the industry as a whole, including in the formation of the CBIA. We acknowledge and appreciate their efforts," the CBIA said in a statement.
"The CBIA celebrates the successes of all Australian craft brewers – whatever that means to each one – be it gaining a tap in their local pub, securing ranging in a national chain, selling to a new owner – or anything in between."
Bonighton and Hines have spent the past 18 years building their business. Their story is one that has inspired many a homebrewer dreaming of going professional, with Mountain Goat starting out in Bonighton's backyard in the early 90s. From there to winning Champion Australian Beer for its Barley Wine – Barrel Beer at the Australian International Beer Awards this year, it has been quite a journey for the duo.
"We sometimes joke that we started 10 years too early, because there were very few people who understood what we were trying to do in the early days. But it's fantastic to see the way Australians are now embracing good beer. I think the momentum craft now has will only keep building," Hines said after the AIBA win.
Beer & Brewer Opinion
The announcement of Mountain Goat's sale to Asahi comes on the back of some major acquisitions recently in the US, with Heineken taking a 50 per cent stake in Lagunitas, the fifth largest craft brewer by volume, AB InBev purchasing Elysian Brewing Co. in January and Ten Barrel Brewing Co. late last year, just to name a few.
With craft beer in the US growing dramatically (about 20 per cent in 2014) at a time when overall beer consumption has increased only 0.5 per cent, it is not surprising that the major brewers are trying to get a slice of the craft market.
With Australia's craft beer industry also enjoying growth, albeit not at 20 per cent like the US and off a small base, and overall beer consumption here at a 68-year low, it was only a matter of time before the large brewers here followed suit.
Bonighton and Hines have done an amazing job at Mountain Goat. They started brewing at a time when craft wasn't 'cool' or popular with hipsters, and getting your beers poured on tap at venues was nearly impossible. The craft beer scene today is a completely different landscape and we have people like Bonighton and Hines to thank for that.
Is it sad to see an iconic Australian craft brewery sold to a foreign-owned company? Yes, of course it is. But the fact an international company wants to buy an Australian craft brewery is a sign of the impressive quality of beers being crafted here and the health of our craft beer market.
Beer is a business and this is most likely a sign of things to come. Who will be next?