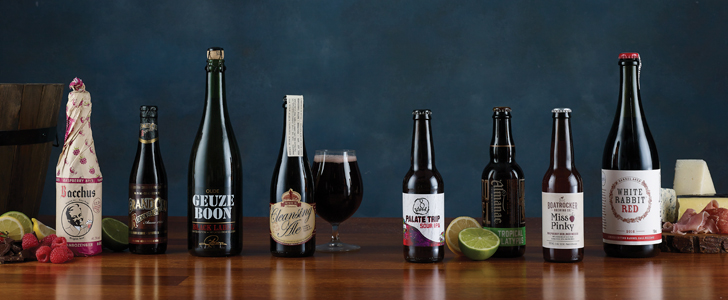 With their acidity and often high carbonation, sour beer styles are brilliant palate cleansers. We take a look at eight to try this season and what to pair with each! For our full article on the weird and wonderful world of sours, check out the latest edition of Beer & Brewer, which is on sale now!
(1) Bacchus Frambozenbier
Brewed in West Flanders, Belgium, this frambozenbier, or raspberry beer, is crafted using Bacchus Oud Bruin, which sets it apart from most raspberry beers that are based on lambic or geuze. The standout characteristic is its balance between sweet and sour, with aromas of sweet raspberries, malt and earthy yeast. Bacchus Frambozenbier is mild and slightly sour with hints of balsamic vinegar. The roast malt contributes a slight touch of caramel and the finish is dominated by sweet raspberries and a mild sourness.
FOOD MATCH
Black forest cake
ABV: 5%
RRP: $11 per bottle (375ml)
(2) Rodenbach Grand Cru
This Belgian brew is a blend of one-third young beer and two-thirds beer aged for two years in large oak vats. The result is a complex beer, with the longer proportion of oak matured beer contributing to its intense fruity, vinous long aftertaste. An incredible beer, which has a finish worthy of a great wine.
FOOD MATCH
Fresh seafood platter
ABV: 6%
RRP: $8 per bottle (330ml)
(3) Boon Oude Geuze Black Label
A truly incredible beer, which picked up the Gold Medal in the Belgian-Style Sour Ale category at this year's World Beer Cup. Boon Oude Geuze Black Label is a dry beer, which presents fresh aromas of farmhouse yeasts (think horse blanket and farmyard) that lead to flavours of grain, citrus and sour apple. An outstanding dry lambic, which will appeal to all the true funk-loving sour fans out there.
FOOD MATCH
Cheeseboard of stinky blue, aged Brie and a sharp cheddar
ABV: 6.4%
RRP: $32 per bottle (750ml)
(4) Two Metre Tall Cleansing Ale
Crafted using only Tasmanian-grown ingredients, Two Metre Tall Cleansing Ale is clean, crisp, aromatic and flavoursome. After three to four months in the bottle the ale will take on a lovely, light, fresh citrus acidity, which will keep it fresh, bright and 'cleansing' through many more months of ageing.
FOOD MATCH
A spread of Tasmanian oysters, abalone and scallops
ABV: 4.9%
RRP: $9.50 per bottle (375ml)
(5) 8 Wired Palate Trip Sour IPA
Brewed for GABS 2016, 8 Wired Palate Trip Sour IPA hits you in the face with its sour fruity freshness. Grapefruit, lime, orange flavours abound, which intertwine with hop bitterness and some citric sourness. A refreshing beer that's very moreish and perfect for sour beer lovers.
FOOD MATCH
Singapore chilli crab
ABV: 6.5%
RRP: $8 per bottle (330ml)
(6) Almanac Tropical Platypus
A really interesting sour packed full of tropical fruit flavours. This sour blonde ale is aged in used wine barrels and oak foeders and has additions of tropical fruits such as kiwi, mango, lime and passionfruit. The inclusion of aromatic Galaxy hops from Australia means this beer is a tropical explosion.
FOOD MATCH
Pavlova
ABV: 6%
RRP: $23 per bottle (375ml)
(7) Boatrocker Miss Pinky
Miss Pinky is Boatrocker's take on a Berliner weisse, a classic European beer style from the north of Germany. Using more than 250kg of fresh Victorian raspberries in the brew, it's not surprising there are beautiful raspberry aromas and flavours up front with a dry and tart finish. A beer that doesn't sacrifice flavour or body for the sake of its low alcohol content, this is the perfect beer for summer.
Food Match
Summer fruits or even pork belly if you're feeling adventurous
ABV: 3.3%
RRP: $5 per bottle (330ml)
(8) White Rabbit RED
White Rabbit is letting nature take its course in defining this beer with spontaneous, wild fermentation taking place in oak barrels over an extended period of time to add an extra depth of flavour. A portion of this barrel aged beer is then blended with a fresh young beer to bring harmony and diversity to the palate. The play on sweet, sour and bitter creates a vibrant experience, accentuated by tart cherry and red wine like complexities.
Food Match
Blue cheese or a peppery salami
ABV: 4.9%
RRP: $25 per bottle (750ml)