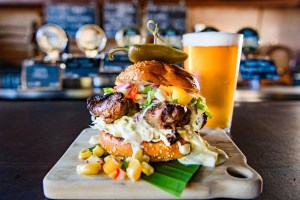 4Pines Brewing Company is expanding its hospitality portfolio with the opening of its fourth venue.
Scheduled to open in time for Christmas, 4 Pines Surry Hills will be a beer and burger bar at 557 Crown Street, in a space formerly occupied by Mr Fox.
The venue, which will be the smallest of 4 Pines' four sites, is split across two levels and has capacity for around 60 people. It will be decorated in the 4 Pines style, with lots of reclaimed wood, exposed pipework and idiosyncratic bits. There will also be some outdoor seating for the summer.
The menu will feature a short list of burgers accompanied by some snacks and sides. The full range of 4 Pines beers will be on offer in bottles or on the six taps, plus a rotating limited edition Keller Door release from the Manly brewery. A special beer has also been brewed for the opening.
"Crown Street has a fantastic hospitality district, it's a landmark in the Sydney industry," says Ed Sargent, executive chef and operations manager at 4 Pines. "We were really keen for any opportunity that came up in that area. This site came up and we jumped at it. It's the first time we've been off the beaches.
"We found out speaking to locals that they were sad that business [Mr Fox] had disappeared and there wasn't anything around any more. There's a real opportunity to connect with the community.
"We're very much about old fashioned hospitality. What we like to concentrate on is giving people a warm, inviting atmosphere and forging relationships with locals, immersing ourselves in the community. That's what customers remember. We just want to be a really friendly local bar and that's what we'll look to do with any new opportunity that should come up. That's what 4 Pines stands for. I think it will be a really inviting venue."