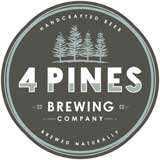 You can trust the team at 4 Pines to have a crack at something a little odd when the mood strikes them – and for Sydney Craft Beer Week 2013, they've teamed up with some serious foodies to produce what could be some very weird – but quite delicious – Beer Mimics Food creations.
First cab off the rank is a combination effort between 4 Pines and the crew at Single Origin Roasters in Surry Hills, to produce what they reckon could be the ultimate breakfast beer – made with banana bread, spread with espresso butter.
They've also teamed up with the kitchen at East Village Hotel, and taken their house-specialty Pig & Fig Pizza – and turned it into a beer they call 'Porky Fig'.
If this sounds like something you'd like to try, you'll need to be on your toes – the brews will be launched in two locations on 24 October at 7pm, and will be available in both places until it runs out… which probably won't be long, knowing the locals at both of those venues and their passion for sampling the finer things in life…
You can try the beers at 4 Pines Brew Pub, 29/43-45 East Esplanade, Manly or at the East Village Hotel, 82 Darling Street, Balmain.For more info, head along to 4pinesbeer.com.au