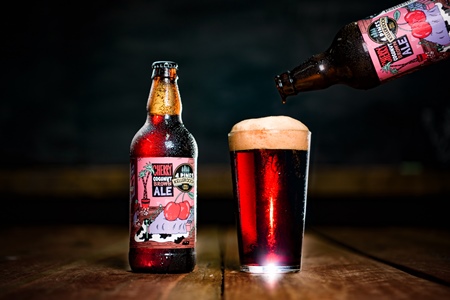 A beer with a soul so soft it melts right inside you, dancing from tastebud to tastebud before slipping softly down your throat and taking you to pleasure town. 4 Pines Brewing Company presents our latest Keller Door limited edition release, Cherry Coconut Brown Ale.
At 4 Pines, we don't judge your love. Whether it's eating capsicums like apples, an obsession with chewing ice cubes or getting stuck into a banana & mayo sandwich (don't worry, we'd never heard of this one either!), we figure there's room for everyone.
Our latest Keller Door love-child celebrates your fourth favourite childhood chocolate bar, the humble Cherry Ripe, and its new best mate, beer. Not an obvious combination to some, the marriage of these two is testament to the creativity of our brewing team. This smooth ale is packed full of flavour from the macerated cherries (and now you know why there's been a nation-wide cherry shortage…) and will forever make you look at a Cherry Ripe in a different light.
Coconut roasted to sounds of Marvin Gaye and cherries macerated until they're hot just like an oven. If when you get that feeling and you want some healing, then this is your beer and yours alone. Let's get down tonight, with Cherry Coconut Brown Ale. I can't hold it much longer.
Malts: Ale | Cara Red | Carafa Special Type 2 | Cara Munich Type 2
Hops: Moutere
Cherry Coconut Brown Ale is available now in limited release 500mL bottles from leading bottle shops around the country.
5.5% ABV / 17 IBU