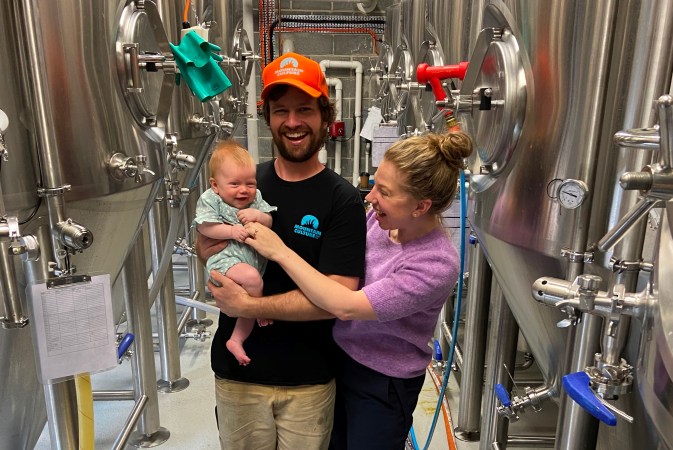 The winner of the 2020 Beer & Brewer Awards Best New Brewery Award is Mountain Culture Beer Co from Katoomba in NSW.
We've upped our tanks three times and I keep thinking when I get the new ones in that we're going to be sweet, that I'm actually going to have some wiggle room and not constantly be looking at an empty cool room. And it doesn't seem to matter. We're always sold out."

DJ McCready, Mountain Culture Beer Co
These awards feature in the Summer 2020/21 edition of Beer & Brewer. Head here to discover all of our great subscription offers.
Awards are perennially fickle things, with opinions often mixed depending on state lines and the like. But this award was never in doubt as the nominations started trickling in, with Mountain Culture the clear cut vote from almost the entire panel.
Opened by former Oskar Blues and Modus Operandi brewer DJ McCready and his wife Harriet in the NSW town of Katoomba in October 2019, Mountain Culture's rise in popularity in the proceeding period has been almost as majestic as the Blue Mountains that surround them.
Their core range beers as well as their constant stream of limited releases have been the talk of both the town and social media throughout the year, especially so in the second half, as they matched technical ability with drinkability and not to forget capturing the zeitgeist of beer in 2020 on a regular basis.
While most new ventures in the area want to set up within or near the magic miles of Sydney's brewery-laden inner west, DJ and Harriet took a different approach, and, while it seemed a risk to begin with, they've in turn established themselves as a tourist destination in their own right in a place famous for them.
"We knew we wanted to open a brewery somewhere and we were bouncing back and forth and were looking at places in Alexandria and in Marrickville. But we were coming up to the Blue Mountains all the time on our weekends away and we just started to feel like 'maybe we want to do it in a place that we love and that we're connected to?'," DJ said.
"I remember Harriet and I having the conversation and we said 'look, we could open up in Alexandria and we'll probably make a lot more money. Or we could do it up in the Blue Mountains and it'll be more of a lifestyle thing. We probably won't sell any beer but at least we'll really like where we live!'.
"It's been a great decision. It's so much work running the brewery but at those times when I find myself done by two or three o'clock of an afternoon I can be out rock climbing in 15 minutes or I can be on an awesome mountain bike trail. We love it because we really connect with the area."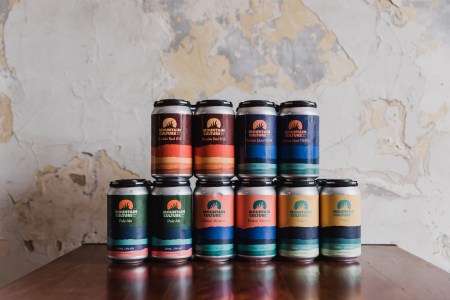 Not long after Mountain Culture opened their doors in the old Civic Video store on Parke St, the Sydney Summer of 2019/20 was marked, like many other parts of the country, by some of the worst bush fires on record and the threat in and around the Blue Mountains was a constant one for months. It wasn't long after that threat died down that another, equally as menacing, one arrived.
"When COVID hit we were like 'oh, shit'. We had just had this terrible run with the bush fires and it all seemed like this big nail in the coffin, especially for us being a brewpub. I remember being really bummed out and it felt like we just couldn't catch a break," DJ said.
"At the time we had been invited down to Resinfest in Melbourne with the likes of Mr Banks and Range and it felt like we were just getting ready to take off. People were finding out about us and we were starting to get a bit of traction. The next six months were planned out and we had events we were going to, collaborations we were going to work on. But everything got cancelled and that festival ended up being the last hurrah – well it felt that way at the time anyway."
Despite the sombre mood, a conversation with a then pregnant Harriet on the long drive back to Sydney would end up sparking the revolution that jettisoned Mountain Culture's name onto the Australian craft beer landscape – especially so on the East Coast. Like many a brewery during those heady first few months of COVID, the decision was to pivot to an online model with keg sales seemingly destined to be non-existent for the foreseeable in their brewpub.
"We just decided on this big about face and said 'screw it' and we just threw everything up online and I started making a new beer every week and we were all about just seeing how we would go.
"Then it was like 'holy shit, we better order more tanks. No, we better order more tanks again. Shit, we better get a canning line!'
"I think a lot of our popularity has sprung from that time. Our beer has gotten out there a lot more and a lot quicker than it otherwise would have. Just taking our brewpub as an example, people used to just stumble in here but now we get people coming up here just for us. It's crazy."
With brewing capacity at their Katoomba brewpub at maximum and demand not being met, Mountain Culture are considering opening a new production brewery in the area. It would appear they are far from reaching the top of their mountain.
"I like brewing beer that people want to drink. It's never been about me and me as a brewer," DJ said.
"I have beers that I really love and styles that I really love and I'm going to keep making those. But I'm also not going to just make beers that are just for me. I'm still going to brew beers that people like and they get excited about.
"And if people are enjoying the beer that much, as a brewer that's a really awesome feeling. And so I'm like 'hell yeah, let's get as much quality beer out there as we can!'."
mountainculture.com.au