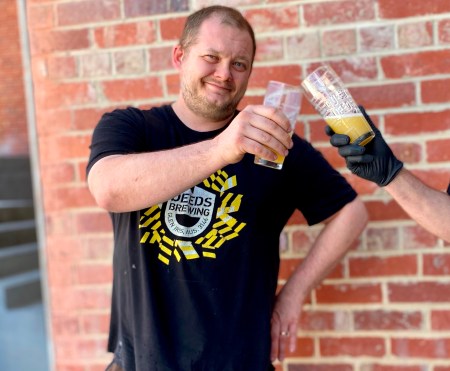 The winner of the 2020 Beer & Brewer Awards Best Brewer is Justin Corbitt from Deeds Brewing in Glen Iris, Victoria.
It was by no means just me that is responsible for the year we've had, but the entire team involved. There are a lot of elements that have helped us get to where we are today and I'm just one part of that."

Justin Corbitt, Deeds Brewing
These awards feature in the Summer 2020/21 edition of Beer & Brewer. Head here to discover all of our great subscription offers.
The saying goes something like 'a good deed brightens a dark world' and Glen Iris' Deeds Brewing, with Justin Corbitt at the helm, have done many a virtuous thing in 2020 to enliven what has often been a shit storm of a year.
Their output has been matched by an equally abundant amount of chatter as release after release this year was met with relish and a level of hype not experienced by many in the Australian brewing landscape. To give that some context, in Beer Cartel's 2020 Australian Craft Beer Survey, Deeds skyrocketed 114 places from the previous year to rank as the fifth best craft brewery in the land. The likes of their Survivor Type Hazy TIPA, Once More into the Fray Bourbon Barrel-Aged Imperial Stout, Knock on Wood Barrel-Aged Pilsner and Doppelbock summed up a year when the industry has arguably never seen such consistent and diverse output across the board.
But to understand why this year has been such a success for Deeds, you need to look back to the middle of 2019 and how a perceived mistake somewhat guided the path to Justin now being named our Best Brewer for 2020, joining Will Irving (Feral), Scott Hargrave (Balter) and Will Tatchell (Van Dieman) as previous winners of the award.
"If you want to talk about us in 2020, you really need to look at 2019 and a period of time when we messed up the brewing schedule and brewed two double IPAs at the same time," Justin said.
"They were The Traveller (with Carwyn Cellars) and Fortune and Glory. And we were scared, because we had so many cases between the two at a time when big IPAs weren't necessarily flying out the door.
"But then they just went really quickly and we were like 'OK'. That gave us the direction to continue making new and different beers. By the end of last year we had gotten into a rhythm of releasing one a week.
"And then we come into COVID. The kegs dry up… but we made the decision to stick with the same formula. I thought the sky would fall in. Putting out four limiteds a month just seemed too much and I had this immediate belief, that because of COVID, people would spend what disposable income they had on cheaper beer. I was way wrong."
The good deeds look set to continue in 2021 as well, with Deeds' own taproom set to be open for business, all things going to plan, early in the New Year, which will add a whole new element to everything Deeds stands for. And alongside maintaining what proved so successful this year, they plan to throw more clear IPAs into the mix while developing and increasing output from their mixed culture sour and barrel-aged programs
"Reflecting on the year we've had, it's a real testament to the team that we have and the people we have put together. Them, and their skill and their ability to MacGyver situations, has been the absolute key to our success – from the brewers all the way to the delivery guy – it's just been huge.
"Making beers we like to drink has always been our ethos, and way back, when we first assembled the brewing team, that was the one line I always gave them: 'We're going to make beers we all want to drink' and the owners Pat (Alé) and Dave (Milstein) were super supportive of that. That won't change for us going forward. "
deedsbrewing.com.au