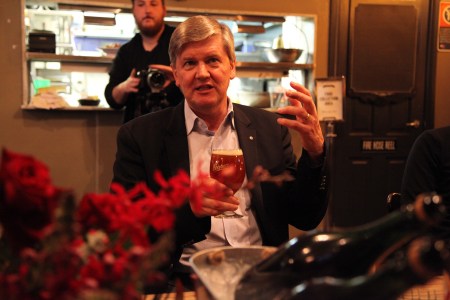 By Andy Young, TheShout
Coopers has launched its 2018 Vintage Ale with a new look for the 7.5% ABV beer, which is the 18th in the series of annual special releases by the brewery.
The beer contains single origin malt from barley grown on Kangaroo Island as well as the Aramis hop variety from Alsace in France. Coopers Managing Director and Chief Brewer, Dr Tim Cooper, said that hop for this year's Vintage Ale was chosen because of its aroma and moderate levels of bitterness.

"There are a couple of significant points about this beer," Dr Cooper told Beer & Brewer at a tasting for the beer's launch on Tuesday night, at the Dove and Olive in Sydney.
"It's made with Westminster malt from Kangaroo Island. Now that we have our own maltings, our maltster can buy the barley from wherever he wants and one of his ideas is having specific malts that come from specific regions.
"Westminster is a highly fermentable malt and is an Australian variety of barley. When malted the Westminster gives a sweet maritime flavour. We also have wheat malt and crystal malt in the grist; the crystal malt gives it the slightly reddy brown colour."
Speaking about the hops, Dr Cooper added: "We have Aramis which comes from Alsace in France. Why from the Alsace? Well, we buy hops from Alsace for Kronenbourg, and Aramis is a sister hop to those we use in Kronenborrg and we thought it would be a good hop to use in this year's vintage.
"Aramis gives us dry fruit, spice, vanilla and red apple."
He added: "The bitterness is 55 IBUs so it's well-balanced between the malt and bitterness. The Aramis is added at different stages; it's added at the end of the boil so that we retain as much of the aroma characteristics of the hop, as well as adding it in the fermenter."
Like all Coopers ales, the 2018 Vintage Ale undergoes secondary fermentation and natural conditioning.
Coopers National Sales and Marketing Director, Cam Pearce, said only a limited quantity of kegs and cartons were available and Vintage Ale lovers should act quickly to ensure supply.
"Seasonal releases of beer and spirits have become popular in recent years with the craft movement," Pearce said. "Coopers has been bringing an annual seasonal release to market for the past 20 years and we are proud to continue this with a greater focus on the seasonal aspect and the origins of the ingredients."
This year's Vintage Ale also has a different look with new packaging and a revamped roundel label which brings it into line with Coopers' other ales while still retaining the distinctive image of Thomas Cooper.
Coopers 2018 Vintage Ale is priced from around $90 per carton, or around $30 per six pack of 355 ml bottles. It is expected to be available at good liquor outlets from 1 August.