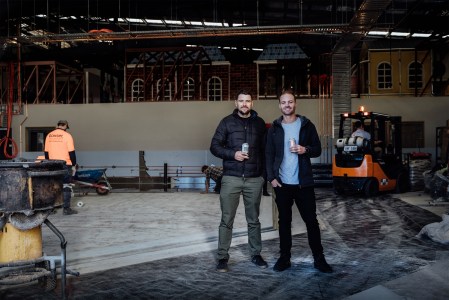 Capital Brewing Company has taken on an identical space next door to its original brewery as part of a growth plan that will see it double its footprint.
The Canberra-based brewery, which opened its doors in September 2017, will install a canning line, centrifuge, conditioning tanks and a specialty grain store in the new area. This will then free up space for more fermenters in the original brewery, with an additional 40,000 litres of tanks arriving before summer 2019.
"This move is allowing us to shift the canning and keg filling and washing operation into its own dedicated space and free up a lot more room for fermentation tanks," says Laurence Kain, managing director of Capital Brewing. "We can fit another 10 100hL fermenters in there.
"It's also just created a more pleasant working environment, so the team isn't on top of each other. Especially from a safety and enjoyment of your job (point of view), it can get frustrating if you have to move stuff around all the time."
Further works over the next 12 months will include a quality control and microbiology laboratory, and a doubling of the number of taps in the hospitality venue. Bright tanks will also be installed in the new site.
"Our brewery is at production capacity and that is entirely thanks to our community who have supported us since we started," says Kain. "The locals got behind us and we'd like to thank them, and lovers of good beer around the country, whose support has underpinned this home-grown success story.
"We've sold way more beer than we would ever have envisaged. The community in Canberra got really strongly behind it. We've had really great support here. And then Sydney has also been huge for us. The rate of growth we've seen in Sydney and Newcastle has just been phenomenal. We couldn't have forecast that we would have ever done that in our wildest dreams."
The new site is expected to be operational by mid-September in time for the summer rush. It has been funded by company profits, which have been reinvested back into the business.
By expanding on the existing site, Capital has also been able to keep its entire operation at its Dairy Road home.
"This is our home really here in Canberra," says Kain. "We've got a really nice location and the people that own this site are just super supportive and have been great to work with. They've given us a lot of help. We planned last year on what we were going to do to solve the capacity issue that we had.
"We're in a 1,000 sq m warehouse to start with. And we've taken another one next door, and we've got another space just adjacent to that warehouse that we can move into over time to expand our dry and cold store as well. We can really consolidate all of our operations on this site for the foreseeable future of the next five years or so.
"From a cultural and learning point of view I think that's really important. You've got the whole team in one spot for developing staff."
When Capital started, the brewery employed five people. It now has 46 employees and is searching for more on the back of the expansion. New jobs include packaging staff, a supply chain manager, sales support manager and additional sales and marketing staff.
The newly expanded brewery will also feature a self-guided tour. Starting in the original brewery and taproom, the tour will take guests along interconnected walkways, allowing them to see the canning line in operation.
The announcement comes just weeks after the brewery announced its new bar that will open in Canberra Airport next autumn.