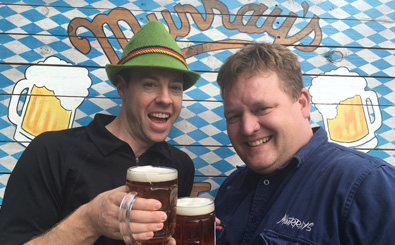 It's that time of year again, when it's ok for blokes to wear stockings, pints are replaced by steins, meat dishes are served on a board with a knife Game of Thrones-style and ladies of all ages can pull off plaited pigtails. Yup, it's Oktoberfest!
In 2016, almost seven million litres of beer are expected to be consumed at Oktoberfest in Munich. This consumption accounts for about 30 per cent of the entire annual beer production of all the Munich breweries combined. Visitors also eat a staggering 400,000 sausages – or around one sausage for every two seconds during the festivals business hours!
Oktoberfest, which runs from late September to the first weekend in October, is celebrated throughout the world and there are some great festivities locally for beer lovers to get involved in this month.
Murray's Oktoberfest
Oktoberfest is coming to Murray's Brewery in Port Stephens this October long-weekend, with celebrations continuing all month.
Guests can enjoy three specially-brewed festival beers, Oktoberfest food including a range of gourmet sausages, and house-made pretzels with mustard, plus free 'rocktoberfest' concerts will be performed at the Oktoberfest-themed Bobs Farm brewery.
"Technically, authentic 'Oktoberfestbier' is brewed only by the breweries within the city limits of Munich. All other beers brewed to emulate the original must be labelled Oktoberfest-style beer! Murray's is also brewing a traditional Oktoberfest beer – or should I say Oktoberfest-style beer, which is smooth, clean, and rather rich, with a depth of malt character," said Murray's brewer, Alex Tucker.
"We're also pouring a German Schwarzbier and another weird and wonderful German-inspired beer, which we haven't decided on as yet."
What: Murray's Oktoberfest
Where: Murray's Brewery, 3443 Nelson Bay Rd, Bobs Farm Port Stephens, NSW
When: 10am-6pm, all October long weekend (1-3 October)
Cost: Free entry. Brewery bus from Nelson Bay $5 each way
To book: www.murraysbrewingco.com.au or call (02) 4982 6411
Munich Brauhaus and Bavarian Bier Cafés
Munich Brauhaus and Bavarian Bier Cafés will be hosting six weeks of Bavarian-inspired festivities, including the chance to win a trip to Bavaria if you sample all the imported, limited release Oktoberfest biers.
Some of the Oktoberfest biers on pour at Munich Brauhaus at The Rocks and all eight Bavarian Bier Cafés across Sydney, include; Spaten; Hofbrau; Paulaner; Lowenbrau; and Hacker-Pschorr.
Along with the chance to win a trip to Bavaria, there will be contests at key venues such as sausage eating competitions and 'The Schnitzelmeister' challenge where customers eat for free if they manage to demolish the 1kg veal schnitzel plus side dishes.
Munich Brauhaus in Sydney will bring the festivities to a close on the weekend of 29-30 October with an Oktoberfest-fitting send-off party.
For more information, go to www.munichbrauhaus.com.au and www.bavarianbiercafe.com
Hoptoberfest 2016 at Hophaus Bier Bar Grill Southgate
Ladies Love Bier Lunch
Special guest head brewer and co-owner of Two Birds Brewing Jayne Lewis, will be on hand to guide guests through a special bier tasting, alongside food by Hophaus head chef Damian Love.
What: Ladies Love Bier Lunch
Where: Hophaus Bier Bar Grill Southgate, mid-level Southgate Restaurant & Shopping Precinct,
Southbank VIC
When: 1-4pm, Thursday, 6 October
Cost: $68
To book: book online or call Hophaus 9682 5900
Weihenstephaner Degustation Dinner
Join guest brew master Tobias Zollo all the way from Weihenstephaner in Germany for this special degustation dinner event. Featuring an eight-course menu by Hophaus head chef Damian Love, don't miss this chance to hear from Weihenstephaner's brewmaster.
What: Weihenstephaner Degustation Dinner
Where: Hophaus Bier Bar Grill Southgate, mid-level Southgate Restaurant & Shopping Precinct,
Southbank VIC
When: 6:30pm, Tuesday, 4 October
Cost: $135
To book: Book online or call Hophaus 9682 5900