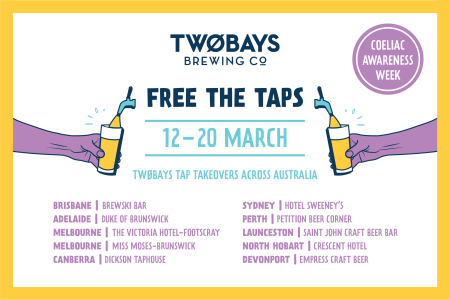 Gluten-free dedicated brewery TWØBAYS Brewing are pouring their award-winning beers in 10 venues across Australia this week for Coeliac Awareness Week which runs until March 20.
After an inaugural gluten-free tap takeover at this time last year in six different cities, TWØBAYS have now ramped it up with 10 venues taking part in Free The Taps – where those who avoid gluten in their diet can sample at least three different gluten free beers at one time (and up to six in some of the venues). These are (unless stated, all are now pouring until March 20):
• Adelaide – Duke of Brunswick
• Brisbane – Brewski Bar
• Canberra – Dickson Taphouse
• Melbourne – The Victoria Hotel Footscray and Miss Moses Brunswick
• Perth – Petition Beer Corner
• Sydney – Hotel Sweeney's (March 17-20)
• Launceston – Saint John Craft Beer Bar
• Hobart – Crescent Hotel
• Devonport – Empress Craft Beer
Sweeney's in Sydney will be putting on 12 different TWØBAYS beers while the Duke of Brunswick and The Crescent will have nine and Brewski, Dickson Taphouse and Petition will each have six.
Brewski and TWØBAYS are also putting on a keg of GFB Draught from which all proceeds will go to It Takes A Town – a community-owned initiative operating in Murwillumbah and surrounding villages who are supporting local flood-affected families by replacing essential household and school items so families can return home as soon as possible.
"Some of these venues have supported us since the beginning – and others are pouring our beer for the first time," TWØBAYS founder Richard Jeffares said.
"We've partnered with these venues because we don't think it's fair for people to miss out. Sampling a brewery's range is something I've really missed since I was diagnosed (with Coeliac Disease) six years ago."
The venues will be pouring either TWØBAYS' gold medal-winning Pale Ale, XPA or IPA alongside their new Mandarin Rice Lager (see more information below on this one) and other limited-edition beers that can normally only be sampled in the Victorian brewery's Taproom. Most venues have also taken a keg of Margarita Sour – the collaboration beer TWØBAYS brewed with Aussie Olympic long jumper Brooke Stratton.
"For me, it's about those who avoid gluten being able to join in supporting their local and exploring different styles and tasting amazing flavours," Richard added.
"We're pushing the gluten free beer boundaries in Australia – this is the third time we've run interstate tap takeovers, but the first time we've had beers flowing in the capital as well."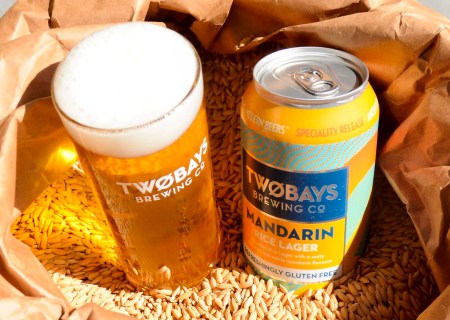 TWØBAYS' latest limited release, and their 20th different gluten free beer in cans, is the Mandarin Rice Lager (4.4%).
Showcasing an unmalted rice backbone it's complemented with delicate, balanced millet malts and a hop mix of Talus, Mandarina Bavaria and Motueka that gives off subtle mandarin flavours.
"Many brewers outside of the gluten free beer world also use rice in lagers to achieve a pale colour and light body that makes the style so refreshing, but what often misleads people is that a 'rice-based' beer can still be made with some malted barley (not gluten free) – and most are, including Corona, Budweiser, Sapporo, Kirin and Asahi," Richard said.
"For us, it's about educating the world around which beers are safe for those with gluten intolerances, at the same time as demonstrating how great gluten free beer can be."