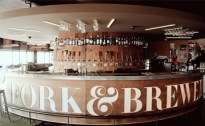 Wellington has dubbed itself the Craft Beer Capital of New Zealand. Travel and tourism website Concrete Playground has put together their list of the top ten craft beer bars in Wellington. Brewers' Guild of New Zealand Beer Writer of the Year Neil Miller evaluates their picks for his home turf.
Here is the craft beer bar list from Concrete Playground:
– Fork & Brewer
– Little Beer Quarter
– Goldings Free Dive Bar
– Rogue & Vagabond
– The Hop Garden
– The Black Dog Brew Co.
– The Malthouse
– Hashigo Zake
– Bebemos
– Garage Project
Miller says "this list reads like my dream pub crawl. You have bars which make their own beer (Fork & Brewer, Black Dog and Garage Project), bars which perfectly reflect their owner's personalities (Goldings, and Rogue & Vagabond) and bars which simply get beer (LBQ, Hop Garden and Bebemos). Hashigo Zake has its own cult following."
"What makes this list unusual is that you can generally walk between the bars. Wellington is a walkable city, Craft Beer Capital has even provided a helpful guide and map to the best beer venues. My one regret is that Bruce the Bulldog from Rogue & Vagabond, who is rightly lauded in the article as a hospitality icon, has subsequently moved away from Wellington with his owners. I, for one, miss him every day," he said.
Source: Concrete Playground
First published on Hospitality Business