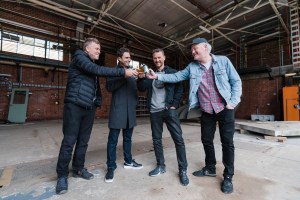 Melbourne brewery Stomping Ground is set to open its second brewery.
The new brewhouse will be located in the Morris Moor development in Moorabbin, and will feature beer hall, event space and large beer garden to accompany a 12 hectolitre brewery
Stomping Ground has secured more than 1,000 sq m for this project.
"Melbourne's South East already has excellent breweries like 2 Brothers, Bad Shepherd, Boatrocker, Dainton, Wolf of the Willows and Mr Banks," says Guy Greenstone, Stomping Ground's co-founder. "My partners (Steve Jeffares and Justin Joiner) and I all live with our families in the area so it made sense for us to open the next Stomping Ground venue there and hopefully become an integral part of that local community.
"We will be showcasing a wide variety of our beers, many brewed in the onsite brewery, along with great food in a unique, family-friendly beer hall atmosphere. We're especially proud of what we've created in Collingwood and can't wait to reveal all at Morris Moor in early 2020."
The new brewery will be set within Moorabbin's 60-year-old- Phillips Morris manufacturing site, which is itself undergoing a transformation, as Up Property looks to create a new urban destination for the local area.
"We are really passionate about creating a vibrant, engaging community that will be a local destination for the surrounding suburbs and are focusing on finding place makers not space takers – future tenants will have an element of on-site production rather than straight up retail, to help bring the development to life. Think coffee roasters and cafes, restaurants, florists, artisanal bakeries and more," adds Adam Davidson, Up Property's managing director.
"We are excited to realise our vision for the hospitality precinct by welcoming Stomping Ground to Morris Moor and look forward to seeing their ideas for the space come to life."