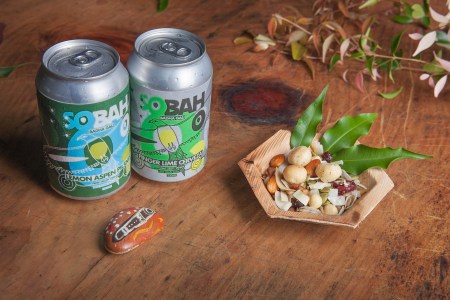 An Aboriginal-owned, non-alcoholic craft beer company with bush tucker infused beers has launched on the Gold Coast.  
'Sobah' is the brainchild of Clinton Schultz, a health and organisational psychologist who went sober nearly four years ago after his sons urged him to stop drinking "silly drink".
"I was also doing a lot of work in drug and alcoholic rehab for men transitioning from jail to parole," Schultz told Beer & Brewer.
"I found it hypocritical to be telling them to stay off the booze but then go home and have a drink. Going sober wasn't actually difficult, but socialising sober was. I'd cop a lot of criticism for not drinking and the venues could only offer me soft drink or ginger beer.
"I still liked the taste of beer so I started drinking European imported non-alcoholic beers. The best ones were Czech. This led me to trying a non-alcoholic home brew of my own, a Czech Pilsner with a native fruit called Lemon Aspen.
"I realised no-one else was doing it here. And being an Aboriginal man, I could do this and smash some negative stereotypes along the way."
There are two beers currently in the Sobah range – Lemon Aspen Pilsner ("fresh and citrusy with a distinct hop aroma and flavour") and Finger Lime Cerveza ("light, zest, tangy and hoppy against a sweet yet nutty backdrop"), with beer number three, a Pepperberry IPA, to be released next month.
For now, Schultz is employing the contract brewing services of the Pickled Pig Brewery on the Tweed Coast, brewing with a strain of yeast that doesn't turn to alcohol as it ferments.
"The yeast is volatile and we have to be extremely careful of cross-contamination with other yeasts, therefore we literally take up the entire brewery for two weeks every time we brew," Schultz said.
"We don't pasteurise as the yeast is a probiotic but having a live beer has both pro's and con's. Cold freight shipping is logistically difficult and expensive, but the taste and freshness as well as the health benefits is a part of our selling point."
Apart from the obvious play on words, the beer's name also incorporates Schultz's language: 'bah' signifies 'place of' ("therefore we say Sobah is a place of sobriety") while 'Badha Gali' is Gamilaraay for 'bitter water' or 'bitter drink' ("a fairly close translation for beer"). The whole package comes delivered in some eye-catching cans.
"The decision to go with cans over bottles was not just about being 'on-trend', in actual fact it is practical as well as safer and better environmentally.
"My brother Tristan is a designer and brought the Sobah brand to life using an artwork by Gamilaroi artist Jason Passfield. We give them full credit! We wanted the label to say that we're Aboriginal, Australian and have a story to tell, and we think this is clear throughout the range."
With widespread interest from retailers and vendors across metro Australia, Schultz also says that his product "will be appreciated in the remote dry communities and mines", and mentions that there's also been interest from overseas. Expect to see Sobah on a shelf near you soon.