We spoke with Adam Johnson, Sales Manager Orora Beverage Cans, about beer packaging and sustainability.
Tell us a bit about Orora and what you guys do?
Orora is a leader in sustainable beverage packaging – we make aluminium cans and glass bottles. We are the largest beverage can supplier across Australia, New Zealand and the Pacific Islands, and our glass business operates one of the largest glass making plants in the Southern Hemisphere.
Can you share any industry trends regarding beer packaging?
Consumers are telling our customers they want to reduce their impact on the world and buy products in recyclable packaging. In response, we are working closely with our customers to develop innovative, recycled and sustainable packaging solutions. Global surveys, such as the McKinsey Packaging Survey, are also reporting that consumers are increasingly concerned about the environmental impact of packaging.
Are the products you make sustainable? Are they recyclable?
Absolutely! Orora's efforts to reduce its impact on the planet are guided by the concept of a Circular Economy, where a continuous loop sees sustainable packaging manufactured, used, recycled and transformed into new packaging. Orora's cans and ends are manufactured from aluminium that contains more than 63% recycled content. Our glass bottles are manufactured from a mix of virgin raw materials and recycled content, called 'cullet'. We are a significant recycler of cullet in Australia and we're currently working towards our goal to achieve 70% recycled content for Orora Glass.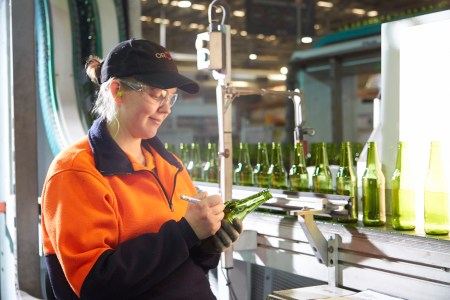 Does using recycled packaging affect the quality?
Not at all. Aluminium and glass are both infinitely recyclable without any compromise on quality. We pride ourselves on producing premium quality packaging that performs optimally throughout the supply chain.
What else is Orora doing when it comes to sustainability?
At Orora, sustainability is fundamental to everything we do. We're working closely with our suppliers to ensure that the recycled content of our products is maintained and increased over time. We're also looking at improving sustainability outcomes across our whole business, beyond the products we make. For example, as a manufacturer we need a lot of energy to keep our plants running, so we are investing in renewable energy sources. Orora has long-term power purchase agreements in place with wind farms to supply renewable energy for volumes equivalent to 80% of Orora's total electricity requirements in Australia. We also have solar panels installed at most of our manufacturing sites, which collectively generate around 770 MWh and offset around 487 tonnes of CO2e per year.
What are you focusing on next?
Environmental sustainability remains a significant focus for Orora, and the beverage industry more broadly, as we continue to invest in technology as well as research and development to reduce greenhouse gas emissions and increase recycled content. Sustainability will continue to be a key driver into the future, and we are actively looking at ways to further invest in this area and deliver against our objectives.
For more information about Orora and their products head to: go.ororagroup.com/beer