Whether it's for yourself, because heck, after the year we've all had we know you deserve it, or for that craft loving friend or family member, buying a Stone & Wood Beer Club membership will ensure no one gets FOMO this Christmas, or ever again.
With hype beers like their Counter Culture releases and annual Stone Beer delivered straight to the door, the Stone & Wood Beer Club ensures members, no matter where in the country they reside, receive early access to seasonal and limited releases before they're sold out.
As well as joining a community of like-minded froth lovers, members receive monthly members-only videos, beer education, special offers, event invitations, delivery of limited release beers every eight to 10 weeks and so much more.
Steve Blick, Stone & Wood's Beer Club leader, said: "Since launching 12 months ago, we've had a great response from our Beer Club members, with spots quickly filling up each time we've increased our membership capacity. Certainly, members love the benefit of having our limited releases delivered to their door throughout the year – but members are also engaged and curious to learn more about our beers and the brewing industry. With our monthly newsletters, we take members 'behind the scenes' with exclusive videos and stories, and give them access to a Beer Club members-only chat group where they can chat all things brewing and connect with like-minded beer-lovers."
Ongoing memberships cost $15 per month, a six month membership can be purchased for a one-off payment of $90 or a 12 month membership is $180.
Make it a very beery Christmas this year and sign yourself up today or buy a membership as a gift for a loved one.
"Our limited-release Counter Culture range is definitely a big ticket in drawing people to join Beer Club as these often sell out, but we like to think people stay for more than that. When you join Beer Club, you not only enjoy our limited release beers, exclusive merch and event deals – you also become part of a community that loves indie beer and is passionate about our industry," Steve said.

• A Beer Club welcome pack with a Beer Club cap and glassware plus a four-pack of East Point
• Guaranteed and free delivery of Stone & Wood's Counter Culture limited releases (2 x 500ml cans) five times a year, plus the annual Stone Beer Vintage Pack (1 x Stone Beer 330ml + 1 x 500ml barrel-aged crock)
• Exclusive video content, stories and beer news throughout the year
• Free and discounted entry to Stone & Wood events and tastings around the country
Steve added: "A six- or 12 month membership to the Stone & Wood Beer Club is the gift that keeps on giving. By gifting a membership to your favourite beer-lover, they'll receive a welcome pack with exclusive merch, glassware and fresh beer as their first delivery, a Counter Culture limited release every two months afterwards and our members-only newsletter to enjoy every month. What could be better than that?"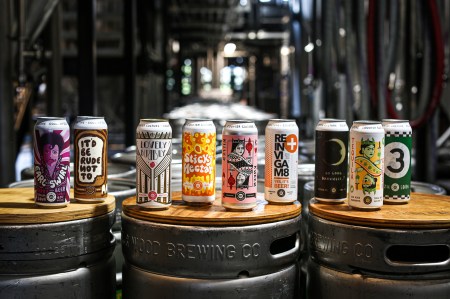 This is where Stone & Wood's brewing team get to let their hair down with limited release runs that go against the grain of their core range. Consistently received with plenty of hype, Counter Culture releases have featured the likes of the 'It'd Be Rude Not To' French Toast Stout, the 'Tequila Queen' Margarita Sour and the 'G3' Double IPA . The most recent was 'The Earl of Swirl' Berry Cream Sour. Beer Club membership means you'll never miss the hype train again! Find out more here: