NZ Hops has launched the Bract Brewing Programme to gain brewing performance insights about their newest varieties as they journey from trial to commercialisation.
The programme takes trial hops grown in the Tasman region of New Zealand and delivers them to approximately 60 brewers globally for the use in a single hopped beer. The resulting beer will then be evaluated for its technical characteristics, such as aroma, flavour and post-fermentation performance. Any beer launched to market using a trial hop, which include hop varieties currently known as NZH-101, NZH-102, NZH-104 and NZH-105, will feature the gold Official Bract Brewer logo.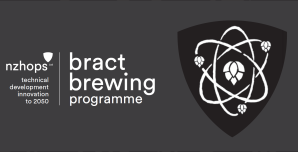 NZ Hops said via a statement: "Feedback from the Bract Brewing Programme will directly impact on the innovation pipeline for NZ Hops and is the final step before the hop is commercialised and released into the market.
"Master Growers will take their cue from this feedback when deciding which varieties to plant in order for them to reach maximum crop coverage in the coming seasons. The Bract Brewing Programme creates a global network for collaboration which formalises the communication between brewers, Master Growers and NZ Hops – a powerful advantage in the global hop market."
NZ Hops will be hoping these trial varieties can progress through the Bract Brewing Programme and have a similar impact globally as their most recent proprietary release Nectaron. The tropical and stone fruit-forward variety was commercially released by NZ Hops midway through 2020 after 17 years of field testing in conjunction with New Zealand's Plant & Food Research. It has gone on to be one of their breeding programme's biggest success stories while it was voted the fifth most desired variety respondents said they were looking to see more of in the future in a recent survey conducted by America's Brewers Association.
Nectaron's namesake Dr Ron Beatson, who is the former head research scientist at Plant & Food Research and current NZ Hops brand ambassador, will be supporting the programme with his knowledge of each of the trial hops as he works between Master Growers and brewers.