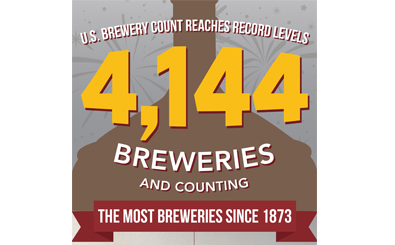 More than two breweries are opening each day in the US, with the total number of US breweries reaching a record high of 4,144 last month, topping the historic level of 4,131 breweries in 1873, according to the Brewers Association.
"This is a remarkable achievement, and it's just the beginning," said Brewers Association chief economist Bart Watson.
"Beer has always been a hallmark of this country and it is even more apparent today as America's beer culture continues to expand."
Of note in 2015:
15 states are now home to more than 100 breweries: California, Washington, Colorado, Oregon, Michigan, New York, Pennsylvania, Illinois, Texas, Ohio, Florida, Virginia, North Carolina, Wisconsin, Indiana.
IPA remained the top style sold by independent craft brewers and continues to grow faster than the overall craft category.
Data shows that 'locally made' is important to more than half of craft beer buyers.
Similarly, knowing that the beer is made by a small and independent brewery is important to a majority of craft drinkers in their purchase decision.
"Craft breweries are a part of their communities, operating in neighbourhoods and towns, returning us to a localised beer culture," added Watson.
"There are still thousands of towns currently without a brewery, but with populations potentially large enough to support one. With beer lovers continuing to desire more full-flavored, innovative options from small and independent local breweries, ample opportunities exist for well-differentiated, high-quality entrants in the marketplace."
For an interactive timeline of US breweries from 1873-2015, click here.
For a breakdown on how the beer industry looked in 1873 versus 2015, check out the graphic below.