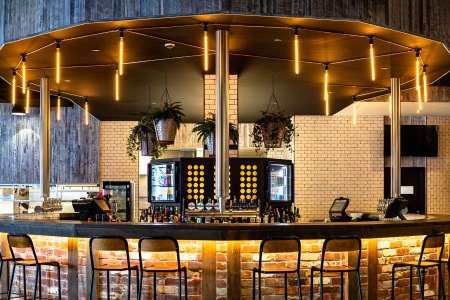 The fact it hasn't brewed beer for almost three months is creating hurdles for one Melbourne brewery to scale as it looks to kickstart production again as Australia emerges from its COVID-19-induced lockdown.
The Docklands brewery and brewpub Urban Alley has opened up new and successful channels during the last few months, including producing hand sanitiser and selling online for the first time nationwide.
But it said the COVID-19 restrictions forced it to freeze beer production and that it hadn't brewed any since March 11 – the first time it had ever gone more than two weeks without brewing. In turn, its brewing staff were put on stand-down and they are only now returning to work.
The resultant dormant brewery has raised its own set of problems, in terms of potential mechanical issues, loss of yeast starters and cultures, and being tied to their existing hop contracts.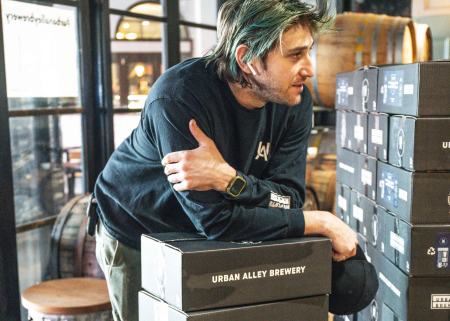 "We had already been gearing up for the Autumn season with new beers in cans, so we were flush with stock by the time the stay-at-home restrictions went into effect," said Urban Alley's executive team in a combined statement.
"This was great for us as a business because we were ready with plenty of beer in the fridge ready for dispatch for online sales, home deliveries, and our existing wholesale customers.
"But it also meant that we had no justification for brewing anytime soon (and) this has its consequences – we had to stand down our brewing staff."
There is also a certain adverse effect on equipment that is brought on by a brewery lying dormant, including water tanks that may need to be emptied and refilled before using them again and multiple other mechanical-related issues.
"We don't want to fire everything up to brew again and suddenly find out that a heap of machines and lab instruments need re-calibration and or servicing.
"Dormancy also has an effect on the operators, as us brewers could lose touch with the intricacies of our equipment and processes after not using them for an extended period. This could mean some undesirable effects, like lower production efficiencies, on the first few brews. But hopefully that's like riding a bike and we will jump back in smoothly."
The hops and malt Urban Alley had in stock should all have survived the lockdown, but the yeast starters and harvested yeast cultures, that had been thriving, would now need to be discarded.
"Effectively this means all new brews would need to be fermented with a new culture or a fresh pitch of dry yeast, meaning we need to restart our entire yeast management program from scratch."
Like many other breweries, Urban Alley have supply agreements with farmers and importers for ingredients such as hops that have now been untouched for a good portion of the year.
"Luckily, they are all being quite understanding about the situation and we will be able to push the agreements into next year as well.
"However, this also means that any new or experimental hops that we might have wanted to purchase later this year or in 2021 will have to wait, because we have an excess of pre-ordered hops to burn through.
"So our hop profiles for the beers of the foreseeable future are pretty much locked in and we don't have much flexibility with trying many new hop varieties.
"On the flip side, the hops that we have contracted are all pretty exciting and we are really looking forward to brewing with them."
Urban Alley is planning on re-opening its brewpub in late June or early July under current Victorian government guidelines.
"Our online presence is significantly stronger than it was before, which has helped get the word out about our products.
"But for us to fully bounce back we need the hospitality trade to get back to normal pre-COVID levels for us to survive."
Contact Beer & Brewer by clicking here to share your news and views.