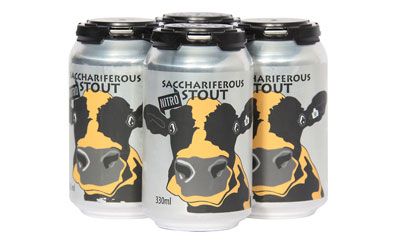 On the back of the success of its first nitrogenated (Nitro) canned beer Dog's Bollocks in June, Mornington Peninsula Brewery has followed up with #tinnage006, Sacchariferous Stout on Nitro.
Utilising nitrogen rather than carbon dioxide (CO2) to carbonate beer provides the beer with a creamier, smoother texture, which complements this style of beer well.
Sacchariferous Stout is a sweet/milk stout brewed using lactose in the brewing process, hence the name 'Sacchariferous', meaning 'containing sugar'. The nitrogen dosing adds to the smooth mouthfeel of the beer, and at 4.6 per cent ABV, it is an approachable stout.
The brewing team at Mornington have coined the phrase 'vertically with enthusiasm' to encourage customers not to dilly dally when pouring. Because nitrogen reacts differently than CO2 when the can is opened, it requires a vertical and unbridled transfer into the glass.
The cans are available from today (25 Aug).