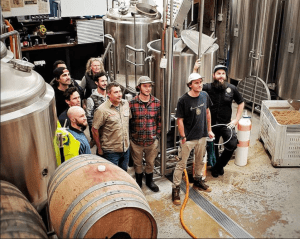 Independent craft brewers across the Mornington Peninsula have united to create a new collaborative, limited edition beer.
The new beer will be a Red XPA with a 5.5% ABV and will be released on 7 September. The recipe was designed from six craft brewers: Mornington Peninsula Brewery, Red Hill Brewery, St Andrews Brewery, HIX Brewery, Jetty Road Brewery and Mr Banks Brewing Co.
"There has been a significant growth in independent craft breweries in the last two years across the Mornington Peninsula," says Matt Bebe, CEO of Mornington Peninsula Brewery. "It is great that in an increasingly competitive world that we are all coming together to not only raise awareness of the region but also the independent craft beer movement.
"Not a lot of people know that all six breweries are based down this way and it's great to work together as an industry," adds Tim Purchase, business development at St Andrews Beach Brewery. "There aren't many industries that would collaborate on a certain product like this, but we thought it was a perfect opportunity. The beer industry is quite friendly, as you know. Bintani were kind enough to sponsor us with hops and Gladfield were kind to sponsor us with the malt."
"We've used 100% Gladfields malt," says St Andrews Beach Brewery's head brewer Matt Stitt. "The grain bill consisted of Gladfield's Ale, Crystal,  Red Back, Sheppards Deleight and Roast Barley malts. It has a bitterness level of 40IBU. We used lots of late addition hops, and it's heavily dry hopped too. We've used dry hops additions of Mosaic, Citra, Eldorado and a lot of late addition of Amarillo."
The official start of the collaborative brew was Wednesday 1 August and craft beer drinkers will have the chance to name the new beer and win a year's supply of craft beer*. To enter, visit visitmp.org/namethatbeer.
The first beer is expected to be ready by the 18 August, but it will be available on tap at each of the brewery's venues from 7 September, with a degustation planned at one of the local golf courses.
*Terms and condition apply