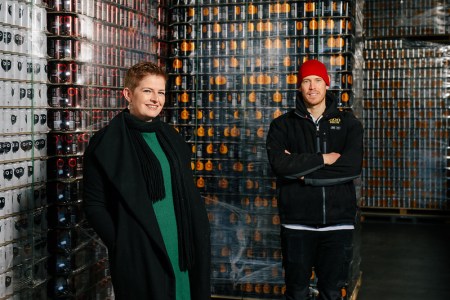 Moo Brew will promote Jack Viney to the role as head brewer and Lauren Sheppard will become their new general manager to fill the void left by Dave Macgill's imminent departure.
Macgill is finishing his role as head brewer and general manager at the end of this month to pursue a new, as yet unannounced Tasmanian-based project.
Viney has worked as a brewer with Moo Brew since late 2014 when he began his professional career and has been intimately involved in every aspect of their brewing process. Meanwhile, Sheppard moves to the Tasmanian brewery from within its parent company Mona, having led business operations, sales and exports for their winery siblings Moorilla and Domaine.
"I'm so thrilled to be taking this next step with Moo Brew," Viney said.
"It's been amazing to learn and grow with the team these last five years and I can't wait to start this next chapter.
"I'm especially looking forward to building on the brand's reputation for brewing really great beers, whether that's a classic Pale Ale or a limited edition Hazy."
Sheppard said: "Having spent many years working with two of Tasmania's best wineries, I'm really pleased to be keeping it in the Mona family with my move into the world of craft brewing. It's such an exciting time to be a woman working in the beer industry and I'm eager to dive right in."
Viney starts his head brewer role this Monday (June 22) whilst Sheppard begins in mid-July.
Contact Beer & Brewer by clicking here to share your news and views.