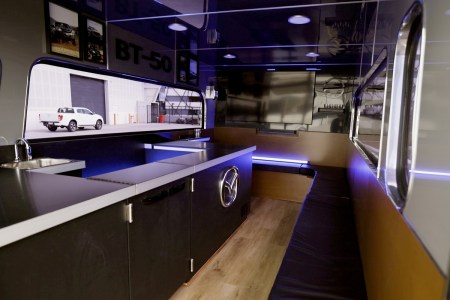 The Pub That Trade Made – a Mazda initiative to promote its new BT-50 ute – will be pouring free Heaps Normal non-alcoholic beers next month as it embarks on a 1,800 kilometre journey along Australia's eastern seaboard.
The six-metre long, two-and-a-half tonne caravan-like "pub", which was built by a team of local tradespeople, will be towed by the Mazda vehicle to "showcase (its)… towing capabilities" and will make stops in Melbourne, the NSW Central Coast and in Brisbane in a two-week tour that kicks off on July 14. It will exclusively serve Heap's Normal's Quiet XPA along the route.
Heaps Normal co-founder Andy Miller said: "At Heaps Normal we're all about helping people create their own normal and in doing so changing the conversation around drinking in Australia. There's nothing better than a cold one at the pub at knock-off. So what a great way to turn that tradition on its head with a pub on wheels".
The Pub That Trade Made location details:
Melbourne, VIC
Queensbridge Square
Thursday 14th July
2.30pm – 6.30pm
Central Coast, NSW
Terrigal Foreshore Memorial Reserve
Saturday 23rd July
12pm – 5pm
Brisbane, QLD
King George Square,
Thursday 28th July
2.30pm – 6.30pm