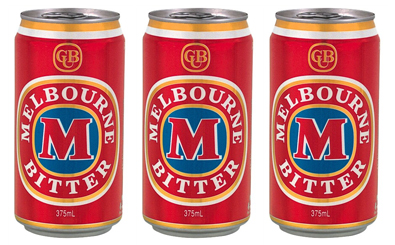 By Vanessa Cavasinni, editor Australian Hotelier
Carlton & United Breweries (CUB) has begun trialling Melbourne Bitter in a few Sydney hotels, gauging whether the Victorian beer has a place on the on-premise market in New South Wales.
One such hotel that has been testing the response to Melbourne Bitter – along with Tooths Pale Ale – is Abbotts Hotel in Waterloo, which has had both CUB beers on its taps for a fortnight, co-branded together to emphasis the retro feel of both beers.
"It's been a great result. People are really enjoying trying different beers," stated Bill Smith, the publican at Abbotts Hotel. "It's a mainstream beer, but aimed at that emerging market that's looking for a slightly different beer."
Questioned on the longevity of Melbourne Bitter on the Sydney market, Smith believes that it will do well long-term.
"I think so far my experience is that both the beers have got real legs, especially Melbourne Bitter. I think it's tapping into a new market for the brewer. I've seen people switching from other traditional mainstream full-strength beers to try Melbourne Bitter and stay with it. So it's not cannibalising CUB's own brands, it's adding to their portfolio."
Abbotts Hotel has traditionally been home to Victoria Bitters drinkers, but has found that as the Waterloo area becomes home to younger craft beer drinkers, Melbourne Bitters and Tooths Pale Ale have tapped into the patrons looking for different beers to drink.
"We're delighted. We're really pleased, and it reflects the changing hotel, and the changes the hotel needs to make to stay current with our clientele."
A spokesperson for CUB told Australian Hotelier that the trial in select Sydney hotels has been in response to inquiries into the beer's availability interstate.
"As you probably know Melbourne Bitter on tap was released in some venues across Victoria last year.
"More recently, we've had requests from our NSW customers and consumers for Melbourne Bitter draught, so whilst we're not sure it has legs in NSW we have been trialling Melbourne Bitter at a couple of locations. That's really about working out whether it might suit some venues in terms of their type of drinkers, location and the mix of beers they already have on offer."
Smith believes that the beer has bright future in the Sydney market.
"I think it's a beer that the Sydney market has been looking for. It's certainly been a very popular line in packaged product for Melbourne Bitter, and the Tooths Pale Ale appeals on the pale ale front. Pale ale has been very popular, but it's more sessionable, and it's also got that Tooths name, that is strongly identifiable as being from Sydney."