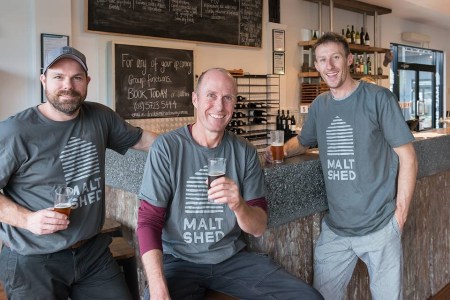 Malt Shed Brewery in Wangaratta has officially joined the High Country Brewery Trail.
On Tuesday 15 October at 11am, the other members of the High Country Brewery Trail headed to Malt Shed's brewery to welcome the team into the group and to launch the 2019 High Country Brewery Trail's signature Rule #47 beer – a kveik red IPA.
Malt Shed was founded by Andrew Bett, Grant Jones and Mathew Saunders in 2017.
The beer was brewed at another recent addition to the trail – Mitta Mitta Brewing – who hosted the brewday in August at their brewery in the Mitta Valley. It features kveik – a Norwegian farmhouse strain of yeast – as well as malt from a single origin small batch craft house and hops from the Ovens Valley's Rostrevor Garden.
The region-wide High Country Brewery Trail is now made up of nine breweries: Malt Shed, Mitta Mitta, Billson's Brewery – which also joined recently – Black Dog Brewery in Taminick, Blizzard Brewing Company in Dinner Plain, Bridge Road Brewers in Beechworth, Bright Brewery, King River Brewing and Rutherglen Brewery.