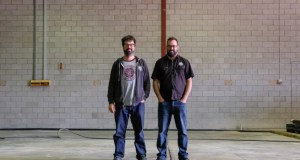 Little Bang Brewery is set to move premises to create a larger brewhouse a five minute walk from its original site.
The new brewery will be located on Henry Street, around from the corner from the original Union Street brewhouse in the inner Adelaide suburb of Stepney. The crew have been shoveling soil, drilling holes in concrete and planning the next phase of life for their brewery.
"Initially, we were in my business partner's garage and that worked too well and we went to a warehouse," says Ryan Davidson, co-founder of Little Bang Brewery. "That seemed huge and then 18 months ago it became apparent how small it was. We had no idea what kind of retail trade we'd get. It was impractical, each side of the business was stepping on the other side.
"We started looking at how we could fund it. This warehouse came up right around the corner from where we are now. It's huge, five times the space we're working with now. Much more car parking, but still in our spiritual home – which we never want to leave. Everything that we're uncomfortable with in the current place is the right fit here."
The left hand side of the 1,000 sq m brewhouse will be dedicated to retail space, with the taproom upgraded from nine taps to 20. There will be a mezzanine level which will act as a bookable function area, along with another at the back of the brewhouse. Little Bang expects to ultimately expand its visitor capacity from its current 145-head maximum to around 290.
Beer production will take place on the right of the build. Some of Little Bang's current equipment will be transferred to the new space, but it is all set to be replaced, with production expected to double in the first year at the new brewery, and doubling again in the second year. The brewery is also installing its own canning line, which will allow it to do monthly beer releases. The next two years' worth of these are already mapped out.
"We've dug a lot of concrete and buried a lot of pipes," adds Davidson. "We have the approvals but we're still working with banks and funding and the business side of things, which we're very much new to.
"Our aim is to be open this summer in whatever form it's in and continue to evolve from there. We make 100,000 litres a year currently, and we're looking to expand that 250,000 when we move here. In this space there's the potential to go up to 1 million litres if the demand suits, but we're not incredibly driven to go up in volume at a massive rate. We're focused on our own and the people at our place.
"We do want to have a dedicated music space, have a stage so we can get some rock and roll. We've had a few musical acts at the old place, it's a bit small,b but this is perfectly suited for it. rock and roll and beer is a no brainer and always makes for a good day. We've got a few spaces so that we have slightly larger functions."