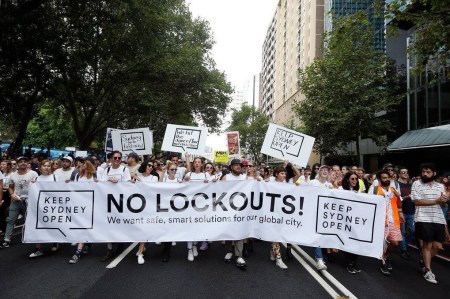 By Andy Young, The Shout
NSW Premier Gladys Berejiklian has detailed plans to help revive Sydney's ailing night-time economy by rolling back the controversial 1.30am lockouts in Sydney's CBD, but not in Kings Cross.
The move comes ahead of a planned report from a joint parliamentary committee into Sydney's night-time economy which is scheduled to be published at the end of this month. The committee has taken a number of submissions and heard from key personnel regarding Sydney's night-time economy and plans for its revival.
Speaking about plans to roll-back the lockouts, the Premier said: "While we will await the committee's report, I agree it's time to enhance Sydney's nightlife.
"Sydney is Australia's only global city and we need our nightlife to reflect that.
"The night time economy is a key driver of jobs in our city and we need to do everything we can to strengthen it.
"Community safety will always be a major focus for my Government, but we certainly need a balanced approach."
And while the move has been widely welcomed, there are still some critical voices, especially those who see the move as a terminal blow for Kings Cross.
Justine Baker, CEO at Solotel said: "We are thrilled about the decision to remove the lock out laws in the CBD, it's a great first step in bringing excitement back to Sydney.
"Although we are disappointed the Kings Cross precinct has not been included as part of these changes, we are committed to working with the government and stakeholders on future changes to ensure Kings Cross returns to an area of burgeoning arts, culture and music."
The Merivale Group also commended the NSW Premier in seeking to reboot economic and social activity to Sydney's CBD 24 hours a day through potential changes to the lock-out laws.
CEO Justin Hemmes, said: "With the imminent completion and launch of Sydney's CBD light rail project and the pedestrianisation of George Street, we have an unprecedented opportunity to initiate a rebirth of our inner city and put it back on the international map.
"We note that everyone wants to feel safe, no matter what time of day or night and we will work closely with all stakeholders to create a vibrant future for a city with a safe, fun and diverse culture that reflects the 24 hour energy of Tokyo, London and New York."
Patrick Gallagher is one of many publicans and small business operators for whom the change has come too late. He told TheShout: "The lockout laws have driven us from the city- just sold our last late night city venue -that is three sold – only a midnight closer left."
The important thing to remember here though is that repealing the lockouts across the CBD and Oxford Street will not automatically make Sydney great again. There are a lot of things now wrong with Sydney's night-time economy as a whole. That's what the joint parliamentary committee is looking into and it's a point a number of people have raised in talking about the announcement from the Premier.
Karl Schlothauer, Chair of the Independent Bars Association and CEO of small bar group House of Pocket welcomed the move as a great first step for Sydney.
"The Independent Bars Association welcomes the news regarding the winding back of the lockout laws, not only for its members but for night time economy as whole.
"While this great first step there is still a lot to be done to make it easier to do business at night. The IBA looks forward to the full Parliamentary review and working with various stakeholders and authorities to restore Sydney to a truly global city."
Michael Rodrigues, Chair of the Night Time Industries Association, agreed that the work in rebuilding Sydney's night-time and its reputation is far from done.
"To say the repeal of the CBD lockouts is welcomed is an understatement.
This is going to give parts of the city's nightlife a unique opportunity to work with the community and the Government to rebuild a vibrant and thriving future for our night time in the city area – but the work isn't done yet.
"The Government's inquiry into Sydney's night time, shed light on many issues, including the reputation damage done to Sydney as a whole, due to how downgraded our nightlife culture has become. We're keenly looking forward to the report from this inquiry due 30 September which we expect will more fully address the suite of reforms needed to unlock the power of Sydney's night time economy.
"There is going to need to be a lot more work done beyond lockouts to restore the perception of Sydney and put the region back on the map as a global destination.
"We look forward to this being one of many steps the Government will take to revitalise our city's nightlife." concluded Rodrigues.
In a statement, Keep Sydney Open said: "This is a huge moment. Years of campaigning has led us to this point. We should all be very proud of our dedication, hard work and persistence.
"There are still many details that are unclear. Why is Kings Cross left out? What about Oxford Street? When are closing times? Either way, we will all need to pitch in to rebuild our city's night-life, live music scene and local culture from this point on."
There were concerns raised by Keep Sydney Safe, the group which represents Sydney's emergency services said the Premier's announcement was premature, given the joint parliamentary committee is yet to deliver its report.
"This pattern of unilateral decision taking, given the report of the Joint Select Committee on Sydney's Night Time Economy hasn't been revealed to the public yet, is concerning," says Keep Sydney Safe spokesperson and President of the Australian Salaried Medical Officers' Federation Dr Tony Sara.
"The committee's process isn't being respected and nor is the input and evidence presented by submitters. At this stage, given the Committee's report is being effectively ignored, we have no idea of how they have balanced known risk factors or projected what it will take to preserve safety."
The joint parliamentary committee received close to 800 submissions and is scheduled to deliver its report on 30 September, Premier Berejiklian said she will consult with her colleagues before a final decision is made regarding all the measures needed to rebuild Sydney's night-time economy in a safe way.