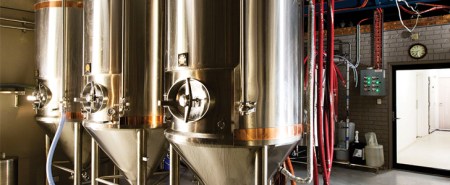 Your friends have said it to you. You have said it to yourself. Maybe random strangers at parties who nicked a bottle of your homebrew from the esky have said it to you too. Those magic words: "Your beer is awesome. Have you thought of opening a brewery?"
It is a seductive idea – making a living making beer. Unfortunately, there is a lot more to starting a brewery, or indeed even creating a beer brand, than just making killer homebrew.
The first question you need to ask yourself is not the obvious one. If you are reading this with intent there is no need to ask yourself if you love craft beer. Of course you do. Instead, you need to ask yourself if you love the craft beer industry. Which is an entirely different kettle of hops.
Yes, it is full of some of the best people you will ever meet. But it is also chock full of men and women who work very hard to chase their passion, often for little monetary reward. If your main thoughts are focussed on profit potential, it may not be the place for you.
If, on the other hand, you are excited about creating something unique and collaborating with other talented, creative people keep reading. Many successful craft breweries and craft beer brands in Australia are thriving in what is, essentially, a hostile business environment. If you are realistic about the market, educate yourself, and seek expert advice, you will have the best chance of success.
Planning Your Plan
How do you know you're ready to take the plunge? If you ask brewers, there is a lot of pre-planning involved. Planning that goes far beyond just making good beer. Andrew Fineran of Batch Brewing says that he and business partner Chris Sidwa had been separately planning for at least six months before putting their heads together and seriously working for between 12 and 18 months prior to placing their equipment order.
"We were pretty confident in our ability to brew good beer and we had started to go to expos, kind of getting all our ducks in a row," Fineran says. "Then, knowing what our costs would be and basically what we needed to do, we made lists of stuff."
According to Jess Giudice, she and partner Renn Blackman were discussing their desire to start a brewery for at least six years before they got serious.
"It was just over 12 months from when we decided 'yes, let's actually do this' to opening the doors," she says.
The result is their brand new brewpub in Torquay, Victoria, Blackman's (pictured above) – a labour of love that is already making its mark on the local scene.
Costa Nikias of Beverage & Brewing Consulting, has been working with brewery start-ups for years and even recently started his own brewery, La Sirène. Nikias regularly teaches short courses across the country on how to start a microbrewery, and he believes that while the process can seem daunting, there are a few key aspects that potential brewing companies need to think through first.
"Typically the first step is to establish a clear concept of what it is you want to do and to do some level of financial analysis," he says. "It doesn't have to be through an accountant. I don't care if it is on the back of a napkin. As long as [you] can quantify that [your] idea can actually be a profitable one, because it's a big investment in time, money and energy to go down the path. And when you get to that point of no return, where you've invested so much personally and capital expenditure-wise, you just have to keep going."
The Business of Brewing
While sticking it to the man to follow your dream and become a brewer might sound like a romantic notion, make no mistake, a small craft brewery is a small business, and you had better start thinking like a business owner.
To make your idea viable you will need to start with the absolute basics – a business plan. Chances are you're going to need some investors, and probably a loan. To get one, or both of those things, you need to be able to articulate your plan in a precise, detailed manner – and that includes knowing exactly how much money you are going to need.
And don't short-change yourself. Breweries are expensive things to set up – expert estimates say half a million dollars is a conservative sum. According to Nikias, lack of finance is the number one reason people can't get their dream off the ground.
"There are a million people who come to us with ideas. Very few get off the ground," he says. "The majority of people who want to start these businesses don't have a lot of funding, yet the ideas they propose typically need a pretty heavy cash resource."
There are plenty of do-it-yourself business plan kits on the market. Be sure to include plenty of clear detail around start-up costs and expected revenue – to help your case include growth statistics around craft beer and its popularity.
When creating your business plan you need to consider first and foremost what you are going to create. Is it a straight-up brewery? Will it have a tasting bar? Would a brewpub be your most viable option? Your choice depends on your interests and your finances.
According to Guidice her and Blackman's favourite thing to do has been hanging out at brewpubs; as it has always been a source of inspiration, it made sense to go down that path themselves.
"By having a spot where people can sit down, taste the beers and share some food with their mates – we feel people can connect with our beer and values," she says.
Likewise, Finneran was focussed on creating a community hub out of his brewery premises – that was central to the business plan, and how he and Sidwa intended to create a following for their brand.
"It was really about making sure that we created this place that was friendly and approachable," he says. "Somewhere people could come in and have a beer, [it was] about being a community brewery."
Brewers and business partners Nick Newey and Pat McInerney, from new Sydney-based brewery Willie the Boatman, jumped a lot of hurdles to get their in-brewery tasting room up and running. And while having a place for punters to connect to was a consideration, McInerney puts their decision to open the brewery up to visitors in very simple terms.
"New businesses need income," he says. "It is as simple as that."
Bottom line: brewing is a cash-hungry, time-intensive business. Chances are you are going to be the brewer, the accountant, the sales rep, the cleaner, the cheer squad and the mop-up crew all by yourself. If you have no experience in running a small business, doing a course would be a wise investment.
Are You Covered?
When planning your brewery, insurance is a necessary consideration. According to Damien Lane, of Midland Insurance Brokers Australia, there are many different types of insurance that need to be considered, such as property, business interruption, liability, burglary and machinery breakdown, just like there are many reasons why you need to have insurance for your brewery.
"You may need to have property insurance in place before you are able to obtain finance to purchase new equipment or liability insurance before you can be involved in a beer festival," he says. "The most important reason your need insurance is to financially protect you, your brewery and your income after a loss or damage has occurred. Some examples are damage caused by storms or fires, burglary and customers becoming seriously ill from your products."
This is an abridged version of a feature written by Stefanie Collins and originally published in Beer & Brewer magazine issue 32. It's the first part in a series examining how to launch a brewery.