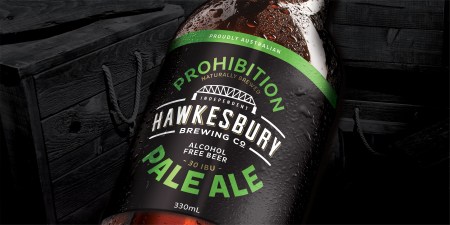 In January 1920, fuelled by decades of religious revivalism and the ensuing temperance movement, the 18th Amendment to the US Constitution was enacted – which, for 13 long years, prohibited the manufacture, transportation and sale of liquor and heralded the storied period in American history known as Prohibition.
Now, as we mark Prohibition's 100 year anniversary, we are starting to see another coming of a temperance movement – not one born out of religious beliefs but rather the fast-moving shift towards "better for you" drinks choices.
In turn, a proliferation of alcohol free beers have hit the market in 2020 as the big brewers and the small look to capture this emerging trend and diversify their businesses at the same time.

One of the latest to enter the category is the Hawkesbury Brewing Co from Sydney's outer northern suburbs who have fittingly, in this centenary year, named theirs Prohibition.
"We know the younger generation are more inclined to healthy choices and we also know that people in the middle-age range have more responsibilities but still want to partake in social occasions. And then there are the people who are completely abstaining as well. So there are many layers to what is making up this movement," Paul Weaving said, who works in business development for Drink Craft, the parent company that operate the Hawkesbury Brewing Co.
"People still have a need to socialise and to come together and to be rewarded at the end of their day. And having a cold beer at a BBQ has a real place in Australian social life. But alcohol, in some instances, doesn't have the same place it once did."
Released in September, Prohibition joins Hawkesbury's core range Pale Ale, Lager, Pacific Ale, Stout and Ginger Yowie – an alcoholic ginger beer. It's currently available in independent bottle shops and Paul said much wider distribution is week's away.
Complementing the demand for alcohol free, crafted beer has been the increased ability of brewers to better mimic the fuller flavoured nature of something with a standard alcohol by volume level. The likes of Australian brands UpFlow, NORT and Heaps Normal have all nailed this art and Prohibition is no different. It looks, feels and tastes much like a beer containing alcohol and pours a bright amber gold with a persistent white, fluffy head. There are big wafts of citrus and stone fruit from the 21 day minimum dry hop using Citra and Galaxy while the flavourful body continues those citrus and tropical notes alongside biscuity malts and clean, refreshing bitterness to finish. There's also something about Prohibition's bottled packaging that further lends itself to authenticity.
"There's a lot of experience across the company in terms of drink formulation and we've been working on the technology that goes into brewing Prohibition for quite some time," Paul said.
"The beer is fully fermented so it has the chance to develop the complexity of flavour and the drinker can get the full beer experience of things like mouthfeel and fermentation notes. There is also no heat treatment to remove alcohol. Right now, we believe that no one else has the technology to do what we are doing (in terms of how we brew our alcohol free beer)."
Contact Beer & Brewer by clicking here to share your news and views.