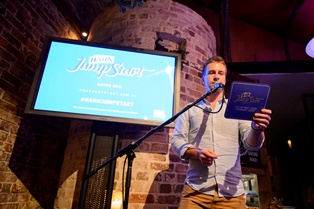 Non-exclusive. Event. HahnOn Tuesday 26th August, 2014, Hahn launched an exciting new program at Sydney hot-spot, Bondi Hardware called Hahn JumpStart to around 70 media, internal stakeholders and special guests.
Hahn JumpStart is an online platform where Australians can get together with a group of friends and share an idea they're passionate about for the chance to win $20,000 and a series of mentoring sessions to help make this idea a reality.
the 26th August 2014. Photographed by Dominic Loneragan. Please Credit Dominic Loneragan.