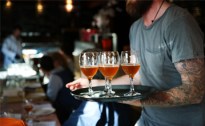 Good Beer Week is back for its fifth year, and to get people in the mood pre-festival event the Good Beer Week Gala Showcase will be held 13-14 March at Fitzroy Town Hall.
The Showcase also signals the launch of the Good Beer Week 2015 program. Tickets for all Good Beer Week events will be available from 13 March to purchase through the festival website and print programs will be available at Fitzroy Town Hall and all participating Melbourne venues from that day too.
A total of 23 breweries from Victoria, Western Australia and South Australia, including some that have only launched this year, will present their finely-crafted brews at the Showcase.
Among them is two-time winner of the TimeOut People's Choice Award at past Gala Showcases, Boatrocker, as well as Feral Brewing and Melbourne's hot new Hawkers Beer, opened by Lebanese brewer Mazen Hajjar (961 Beer) and Melbourne chef Joseph Abboud (Rumi, Moor's Head) last month.
For the first time a selection of food trucks including Taco Truck and Beatbox Kitchen have been added to the mix.
Info:
Friday 13 March 5pm-9pm
Saturday 14 March 12pm-4pm and 5pm-9pm
Fitzroy Town Hall – 201 Napier St., Fitzroy VIC 3065
Tickets: $40 +BF or $45 on door
To buy tickets, click here.