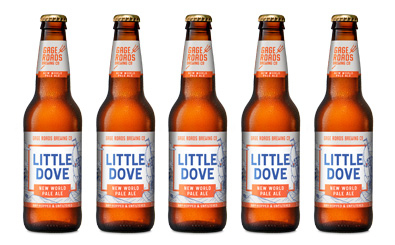 Gage Roads Brewing Co.'s award-winning beer, Little Dove New World Pale Ale is the newest permanent addition to its range and will roll out in bottles nationally from mid-September.
Taking out the top award of Champion Australian Beer at the 2016 Australian International Beer Award's (AIBA) earlier this year, Little Dove has generated much acclaim since launching in kegs late April.
"We're very excited to be launching Little Dove in package prior to the upcoming summer, especially given the momentum the beer has built since its win at the AIBA in May," said national sales and marketing manager Scott Player.
Little Dove will join Gage Roads' existing range, which includes Atomic Pale Ale, Single Fin Summer Ale, Sleeping Giant IPA, Breakwater Australian Pale Ale and Narrow Neck Session Ale.
At 6.2 per cent ABV, Little Dove represents the most challenging offering in the Gage Roads range.
"I think the success of this beer is down to balance. It's perfect and a testament to the skill of our brewers," Player said.
An emerging style, new world pale ales are characterised by flavour profiles of non-traditional hop varietals, often sourced from Australia and New Zealand.
"I get a lot of passionfruit and pineapple, but depending on your palate you might even perceive some melon, grapefruit or other tropical fruits," Player explained.
The Little Dove announcement caps off a busy period for the Western Australian brewer, with the company last week declaring it would seek shareholder approval to raise capital and buy back Woolworths shares in support of its five-year 'Returning to Craft' strategy.
Gage Roads general manager John Hoedemaker said it was an exciting time for the business.
"I'm extremely proud of the team at the brewery. I have no doubt that Little Dove will be a successful addition to the Gage Roads range. Its success in draught to date is further proof that the company's new direction to focus on its proprietary craft beer brands is the right strategy at the right time," Hoedemaker said.