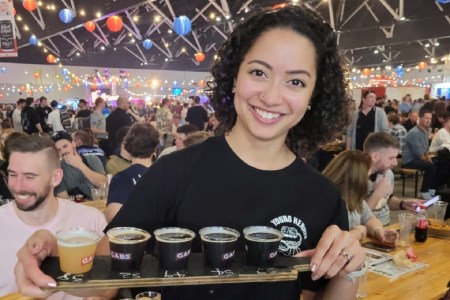 Exhibiting at a craft beer festival is a sure-fire way of getting your brand name out into the beer world. It's a fantastic way to build your brand presence, attract new customers and connect with consumers and brewers all under one roof, on one day.
But for those just starting their brewing journey, the idea of exhibiting at one of the best festivals in the world in the early days may seem out of reach. Yet, for the third year running, GABS Craft Beer Festival are providing an incredible opportunity for 12 emerging Australian breweries to exhibit at its festivals via their Up & Coming Brewers Bar initiative through the GABS Cares program in partnership with Hop Products Australia (HPA), Bar Barons and Konvoy Kegs.

The GABS Festival Up & Coming Bar in Melbourne, Sydney and Brisbane will showcase four new brands who brew or distribute in that state. This is a fully sponsored stand opportunity for the selected breweries who will be offered an allocation of two taps on the Up & Coming Brewers Bar.
The selected breweries will receive up to 20kg of the highest quality Aussie, international or innovative hop product from GABS' partners at HPA, the Bar build provided by Bar Barons and kegs for use at the festival provided by Konvoy Kegs. They will also enjoy all the benefits of being an exhibitor at GABS including exposure to thousands of GABS craft beer enthusiasts, extensive promotion and marketing through the GABS media network as a key attraction at the festival plus the opportunity to be involved in a GABS Academy food pairing educational session.
Any new, emerging or contract brewery brand that launched after 1 January 2020, has never exhibited at GABS Festival before and is planning to launch, or already retailing in the same state as the festival is invited to apply.
Expressions of interest can be made here until November 10.
This is an edited version of a media release distributed by GABS.