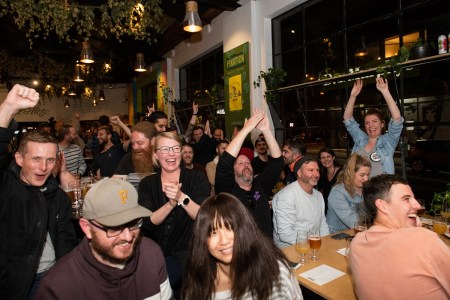 Now in its eleventh year, Good Beer Week (GBW) is returning to celebrate great beer, delicious food and unforgettable adventures for the community to come together and find their way through a jam-packed program, taking place May 20-27.
To extend the good beer celebrations, GBW has partnered with Pint of Origin (May 12-20), GABS Melbourne (May 19-21) and the Australian International Beer Awards (May 25) to present 16 days of good beer. GBW encourages the community to explore their way through the program which focuses on supporting local and independent producers.
Head to goodbeerweek.com.au for the full program.
"We are excited to have Good Beer Week back in 2023," Independent Brewers Association CEO Kylie Lethbridge said. "COVID-19 taught us a lot and allowed us the time to reflect on the past 12 years to determine how GBW can keep evolving and offer the best possible innovative beer experiences.
"We are trying new things this year, we have a smaller more curated program, focus on Australian independent beer and Independent Brewers Association members and spread over nearly three weeks, thanks to our partners. Allowing everyone to get to more events…we can't wait to see beer lovers find their way to Good Beer Week 2023."
The 2023 GBW program has channelled a retro Melways theme, encouraging beer lovers to explore the program of events across the city, metro Melbourne, and regional Victoria.
A taste of GBW 2023
The Creation Story Feast with Mabu Mabu's Nornie Bero
@ Stomping Ground Collingwood
An interactive multi-course Torres Strait Island feast inspired by a Creation story. Through storytelling and song, specially designed dishes will celebrate native ingredients and bring the tale to your table in an interactive night of performances, dining and Stomping Ground beers to match.
Beef, Beer and Barley
@ Victoria by Farmer's Daughters
Victoria by Farmer's Daughters and Good Land Brewing host a complete taste of Gippsland. Good Land will offer up an eclectic range of limited releases while Victoria by Farmer's Daughters are bringing Bonnie Brae Farm's, Flynn, beef to the table. The Gippsland cattle are fed from Good Land spent grains.
The Floating Swine goes to Hepburn
@ The Surly Goat
A five-course menu with paired beers, with a few surprises to be revealed on the night to celebrate regional beer with regional produce.
Bar SK Returns ft. Edge Brewing Project
@ MARCH
The event includes beers from Edge Brewing, including one limited release for the night, alongside matched snacks from the team at IDES.
Great Deeds Bakeoff
@ Deeds Taproom & Kitchen
Asks beer lovers to rise to the challenge and create their finest beer-y dessert using Deeds beers. Guests can taste test their way through six finalists' desserts and roaming canapes, while a judging panel deliberates on the Grand Champion.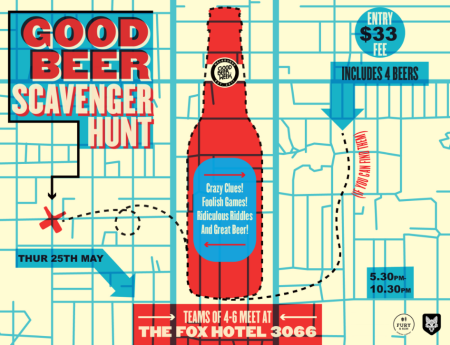 The Good Beer Annual Scavenger Hunt
@ The Fox Hotel
Take part in a scavenger hunt for beer. Follow the clues, mystery, games and total mayhem. Everyone is a winner lots of prizes from all the best brewers in town.
Abbey Collaby XIII
@ Moon Dog OG
There's a bucking bull, country performers, a whole heap of barnyard themes and plenty of beer. Plus try the one-of-a-kind Abbey Collaby specialty beer, made by some of the best brewers in the game.
Hair of the Dog Breakfast
@ Beer DeLuxe Federation Square
Join legendary chef Telina Menzies, the Coolroom Podcast's Davydd Griffiths and a cast of great brewers talking about beers which will be matched with an amazing brekkie menu.
Head to goodbeerweek.com.au for the full program.