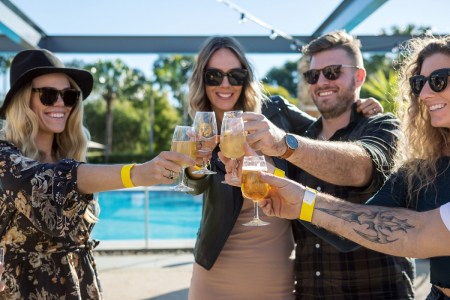 After managing to successfully stage a festival in 2021 between various State and regional lockdowns, the Hunter Valley Wine & Beer Festival will hold its biggest ever event on June 18 to celebrate its 10th anniversary.
With beer added to the festival in 2021, the revamped event, that's housed both indoors and out at the Crowne Plaza Hunter Valley, will offer some 50 wineries and more than 10 craft brewers.
Brewers on show include Sydney Brewery Hunter Valley, IronBark Hill Brewhouse, Lake Macquarie Brewing, Hope Brewery and MaltNHops while wines will come care of the likes of Scarborough, Draytons and Audrey Wilkinson, along with boutique and organic vineyards such as Macquariedale Organic Wines and Tamburlaine Organic Wines.
In between tastings (which will also include local cheese and other artisan products), festival-goers can enjoy entertainment from well-known local musicians, foods from a wide range of providores, and the opportunity to relax in the spacious lawns of the Crowne Plaza.
The festival is a family-friendly event, with children receiving complimentary entry, where they will enjoy a variety of activities including a jumping castle, train rides, carousel, petting zoo and face painting.
There is plenty of onsite parking at the Crowne Plaza, and for visitors from Newcastle a bus service is available leaving the Novotel Newcastle and Rydges Newcastle – more details on the website. Tickets are available for $30 return per person. Bookings can be paid through the ticket link.
Once again, the festival will support the local Rural Fire Service, with fundraising activities on the day.
General Admission tickets are available for $15pp ($25pp on the day) through Moshtix (booking fees apply). Children have free access to the event when accompanying parents.
Tastings are available for $2 each (30ml wine, 100ml beer/cider).
Bookings and further information: www.huntervalleywinefestival.com.
This is an edited version of a media release distributed by Hunter Valley Beer & Wine Festival.