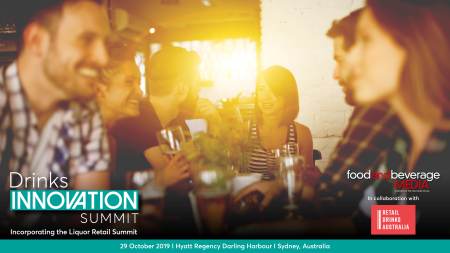 The Drinks Innovation Summit 2019 event will explore the challenges and many opportunities that this age of change offers to everyone involved in the liquor sector, including brewers.
Held at the Hyatt Regency in Sydney on Tuesday 29 October, 2019, the summit will feature a host of 50 speakers discussing and exploring every aspect of the alcohol, hospitality and off-premise industries, allowing attendees to identify emerging consumer trends and innovations, understand best practices, explore effective sustainability measures and adapt marketing strategies, and much more.
Attendees can arrive to register and get a morning coffee from 8am, with the Opening and Welcoming Remarks coming from Paul Wootton, group publisher of Intermedia Group, and Julie Ryan, CEO of Retail Drinks Australia.
This will be followed by the keynote speech, which is entitled 'The Digital Future: China Retail Revolution and the New Era of We-Commerce' and will be delivered by Matthew Brennan, co-founder and managing director of China Channel, Shenzhen City, China.
Attendees will then have the opportunity to hear discussions and talks on subjects such as big data and carbon neutrality.
Within the beer and cider category, there will be a series of talks and discussions after lunch covering numerous topics, including 'How to capture the millennial and Gen-Z market with a focus on health', 'The Premiumisation Trend', 'Small Business, Big Marketing' and 'Equity Crowdfunding'.
Speakers from the beer and cider world include:
Jamie Cook, executive chairman of Fermentum and chairman of the IBA
Sam Harbour, co-owner and general manager of Hop Nation
Charlie Whitting, editor of Beer & Brewer
Grant Wearin, founder and owner of Modus Operandi
Ben Kooyman, founder of Endeavour Brewing
Andy Williamson, founder of BoozeBud
Dan Norris, founder of Black Hops Brewing
Dr Chuck Hahn, chief brewer at Malt Shovel and the 'Godfather of Australian Brewing'
James Atkinson, founder of Drinks Adventures
Sam Reid, co-founder and managing director of Willie Smith's Cider Makers
Matt Houghton, founder and head brewer at Boatrocker Brewers and Distillers
To find out more and to purchase tickets, click here. There is an Early Bird Discount that ends 11:59pm on Tuesday 9 October, 2019.