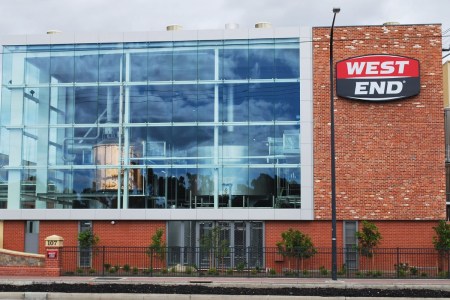 Following yesterday's shock announcement that Lion would look to close Adelaide's West End Brewery in June next year, their Managing Director has cited competition from craft beer as one of the reasons that has led to the decision.
Lion – a subsidiary of Japan's Kirin – said yesterday 94 local jobs will be lost at the 160 year old business, however approximately 40 other positions, mostly in sales and sponsorship, would be retained in South Australia. West End, Hahn SuperDry and Southwark beer, which are brewed at the Adelaide brewery, will now be brewed at other Lion breweries – the Toohey's and XXXX plants in Sydney and Brisbane respectively. Several prominent West End sporting sponsorships and current grain contracts with SA producers will be honoured.
Speaking at yesterday's announcement, where it was revealed West End had been operating at about 50 per cent of its capacity, Lion's managing director James Brindley said COVID-19's impact on draught beer sales had contributed to the decision. But he said it was more the long-term trends in the industry, where the market share of mainstream beer like West End had been in decline due to preferences shifting to craft beer or other drinks categories, that had really led to the move.
"Over the last few decades consumer preferences have changed, the beer market en masse continues to decline and is now at its lowest per capita consumption ever recorded in Australia, while 700 new craft breweries have sprung up so competition is intense. And the cost base continues to increase," he said.
"No doubt COVID had a short-term impact. COVID certainly hasn't helped it, but COVID's not the driver of this decision."
Lion said beer consumption over the last 10 years had declined as different drink options took its place and per capita, people were drinking 20 per cent less beer.
Just this week, Lion started spruiking the hugely popular American alcoholic seltzer brand White Claw in Australia after securing the local distribution rights to it back in May. Low calorie hard seltzers are currently a multi-billion dollar business in the US and the category's popularity in Australia appears to be growing as some people's lifestyle choices dictate their alcohol consumption.
Meanwhile, The United Workers Union that represents the West End brewery's workers slammed Lion's decision as a "massive betrayal" of their employees and the wider community.
"This move is a massive betrayal to their workforce and the South Australian community after the company received tens of millions of taxpayer money for an upgrade to the site," said Mark Whenan, South Australian Coordinator of Food and Beverages, United Workers Union.
"We are still working through what this means to our members at the brewery and how they want to proceed.
"However, the facts of the matter are that workers at West End have continued to turn up every single day throughout the pandemic, delivering for their employer, Lion.
"In response, the company is savagely cutting their livelihoods.
"Lion has an obligation to their hardworking employees and to the South Australian community to provide good secure jobs throughout this crisis and beyond. They have benefited from the iconic SA brand for years and shouldn't be compounding the state's unemployment problem."
In a statement, Lion said: "Those impacted by this proposal would have access to extensive outplacement support, and a West End Re-Skilling Fund of up to $1 million, on top of any potential redundancy payments. We will work with the SA Government to optimise this support package".