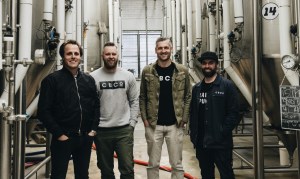 Colonial Brewing Co is set to significantly increase its brewing capacity with upgrades at its breweries in Port Melbourne and Margaret River.
The brewery aims increase its brewing capacity to 4 millions litres over the next year,, and then pushing on up to a further six. The brewery in Port Melbourne will receive 100hL and 200hL vessels, with fermentation tanks arriving in three stages this Spring.
The facility upgrade with Germany-based company BrauKon has focused on using the latest technology, including a vapour consenser and an internal boiler, both designed for improved energy efficiency. BrauKon automation is expected to increase consistency, but Colonial brewers will maintain their hands-on approach to ensure that there is direct management of the ingredients and the process.
A custom-designed, four-vessel, 50hL brewhouse is also expected to give Colonial the ability to brew more beer with greater quality control.
At Margaret River, new structures will be built on the property to make room for additional fermentation space, which will double the production volume in the West.