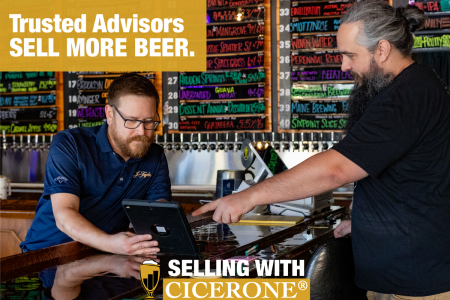 The Cicerone® Certification Program today announced Selling with Cicerone, an online course designed for brewery and wholesaler sales teams.
Developed with Tamarron Consulting and Sullivan Sales & Marketing Solutions, Selling with Cicerone is a companion to the globally recognised Certified Beer Server credential. With it, sales teams will learn to identify opportunities to become their accounts' most trusted advisors. They'll present the best ideas to support their accounts' needs, promote the beer category and improve account profitability.
"We developed Selling with Cicerone from feedback from beer sales leaders," says Master Cicerone® Chris Pisney, Program Director for Cicerone. "They wanted to know that their sales teams were applying the knowledge from their Cicerone studies in day-to-day sales calls to sell more beer. This new companion course teaches them how."
Selling with Cicerone covers three areas of instruction: Improving Profitability through Quality Assurance – learners will apply their knowledge to increase sales, reduce costs and maximise draft beer profitability; Leveraging Beer Style Knowledge – learners will identify opportunities to optimise the assortment offered in different accounts, enhance beer menus, and maximise profitability; and Selling Beer with Food – learners will leverage their knowledge of beer flavour to identify more opportunities to sell beer with food. They'll discover techniques to empower on-premise staff with effective suggestive sales advice.
The self-paced online course offers a rich learning experience through activities, practical applications and quizzes. Participants will learn how to identify growth opportunities within their accounts in just a few hours. Selling with Cicerone also includes market-specific activities that learners can share with their managers for enhanced collaboration and alignment with company goals. When learners pass the final quiz, they'll receive a digital badge demonstrating they've mastered the fundamentals of Selling with Cicerone.
"Beer sales representatives have an opportunity to increasingly take on a consultative role with their accounts," said Pisney. "When they leverage skills gained through Cicerone certification and in this course, they'll grow their relationships with accounts by helping them sell more beer. And when their accounts sell more beer, they'll sell more beer."
Learn more about Selling with Cicerone here.
This is an edited version of a media release distributed by the Cicerone Certification Program.