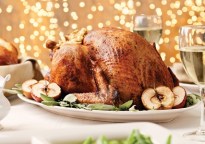 We all know it gets hectic towards the end of the year – the weeks fly by in the blink of an eye, decorations seemingly swallow houses overnight, lists appear addressed to 'Santa', relatives start booking in visits and suddenly there's a big, smelly tree in the lounge room dropping needles everywhere. Yup it's the 'c' word…Christmas.
So with relatives about to descend on the house just what should you serve with Christmas lunch?
This is when it's best to remember the other three 'C' words – Complement, Contrast and Cleanse/Cut. Complement is about finding two elements similar in both the beer and the food. For instance the rich caramel flavours of a roast pork match well with the caramel characteristics of an amber or brown ale. Contrast is all about contrasting the base flavours of the dish, for instance a pilsner will contrast nicely with a creamy pasta dish. Finally, Cleanse/Cut is where a malty sweet beer cuts through the spiciness of Mexican foods or an American pale ale cleans away the fatty, oily palate from foods like fish and chips.
So with that in mind, we have put together a Beer & Brewer Christmas Menu sure to impress the relatives.
Pre Drinks
While the kids are running around hitting each other with the toys they unwrapped that morning a great way to kick off the day is with a refreshing easy drinking Australian beer like Coopers Pale Ale. It's a good people pleaser beer when hosting guests from all walks of life and ages. For something a little more exotic and a great conversation starter with relatives you only see once a year, try a Kriek (cherry) Lambic beer from Belgium. Refreshing and Christmasy like sparkling shiraz, it looks amazing in the glass – use a Champagne flute or tulip glass for this.
Seafood Starter
For a true Australian Christmas it's hard to go past the incredible seafood we're lucky enough to have at our fingertips. Fresh oysters teamed with 4 Pines Kolsch or a stout like Moon Dog's Black Lung IV or spicy bloody mary oyster shooters with a summer ale like Modus Operandi's Lola. Fresh seafood like prawns, bugs and fish pair well with a pilsner such as Coopers 62, Belgian witbiers or a saison like Bridge Road Brewers Chevalier as they won't overpower the delicate flavours.
The Main Event
Whether it's ham or turkey, or both like my family, Christmas is all about the big bird(s) in the middle of the table. The saltiness of ham makes it a natural pairing for a beer like Hawthorn Pilsner however a delicious glazed ham could make a lovely accompaniment to Stone & Wood's Pacific Ale or The Australian Brewery's Extra Hoppy Ale. The light delicate flesh of turkey creates some interesting pairing options from saison and pilsner to something completely different like a Pagan Cerise Apple and Cherry Cider.
Dessert
This is where the art of beer and food matching creates glutinous moments you'll remember forever.
If you finish Christmas lunch with a delicious chocolate treat then team it with something equally indulgent like Feral's Boris Russian Imperial Stout, or Clout Stout if you were lucky enough to score one in your stocking. If Christmas pudding is more your style then try Fantôme de Noël Saison or one of the many incredible seasonal Christmas brews like Redoak Christmas Cheer.
Dessert 2.0
This is the dessert you eat after you've had an arvo nap. A cheese platter is always a crowd favourite and the beer matching options are truly spectacular. The bitterness of Coopers Celebration Ale is a great pairing for tangy cheeses, while saisons work very well with creamy, ripe, stinky cheeses. The effervescence of the style will scrub your palate clean of fatty residues and leave you ready for the next mouthful. Try a stinky washed rind or a particularly blooming goat cheese.