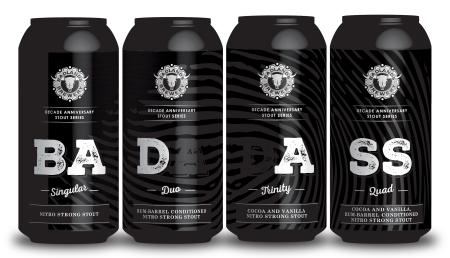 Badlands Brewery in Orange, NSW is celebrating their 10 year anniversary with what it considers to be a "world first" release of beers. They know it's a big call, and a potential exaggeration, but hey, they're claiming it for now.
Badlands Announce Decade Anniversary Stout Series – or BADASS for short – is a four-pack birthday release featuring four iterations of the same beer. Head brewer and managing director Jon Shiner said it is to show the different characteristics and techniques of each production step, thus illuminating how the final beer was crafted.
"The tagline for this release is: 'A drinkable history of a beer in four steps'. We want beer lovers to try each of the four beers in the order that it came into being," Shiner said.
"We want them to taste the final beer Quad, which is the one we set out to brew initially, having tried these three other amazing beers first and hopefully gain an insight into how we got there.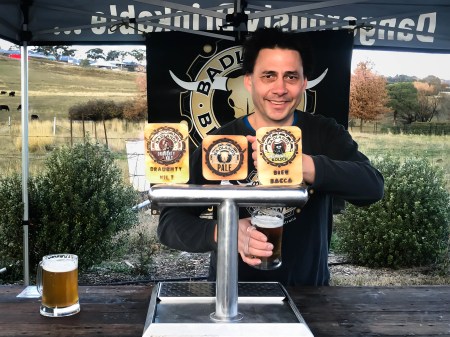 "Is it a world first? As far as we know it is. Maybe your readers can help answer that one?"
Beer aficionados – fire at will by sending your counter-claims to this here.
Shiner said BADASS had required lots of innovation with senior brewer Tim Roach about how to re-purpose a Strong Stout destined for barrel-condition and infusing.
"It was a huge challenge from there to figure out a way we could have beer ready to put in cans at four different stages of production that all told their own stories and worked individually as great beers but were part of a bigger picture."
The first beer is called Singular – a Nitro Strong Stout. It is the beer as the Germans would brew it, with just the four key ingredients of malted barley, water, hops and yeast to the fore.
The second is Duo – a 100 per cent rum-barrel conditioned Nitro Strong Stout, which was temporarily homed in a Stone Pine Distilleries Dead Man's Drop barrel – the first and only barrel to be released from the Bathurst distillery in its 12-year history.
The third is Trinity – a cocoa and vanilla rendition of Singular, which uses single-origin cacao beans from Vanuatu, which were roasted by Spencer Cocoa of Mudgee, twinned with vanilla beans grown in the top-end by Broken Nose Vanilla.
The fourth and final beer is Quad – which is the Trinity with the barrel-conditioned beer blended back into it. Or "the whole kit and kaboodle" as Shiner put it.
"It is dense, deeply smooth, and spicy but with a velvety, rounded complexity. A beer to sip and ponder the dark mysteries of the world," he said.
"It has been a wild ride for 10 years, no more illustrated than with this beer, which has been exciting, anxiety-inducing, confounding and rewarding in equal measure.
"The beer itself is a homage to Badlands' past, a celebration of the 10-year milestone and, as this beer should age well for a year or two, a glimpse into the future."
The last few months have been tough for Badlands – including having to let one brewer go and witnessing their on-premise sales disappear. But BADASS has been a great distraction just as sales have started to tick over again.
"It has kept us busy, enthusiastic and challenged. In all probability, if it hadn't been for COVID, I am not sure we would have been able to attempt something like BADASS as it has consumed so much time," Shiner said.
"For once though we had a bit more of that precious resource called time. Which I need to keep reminding myself is so important, and make sure there is space in the week for being creative.
"After all, that's why I wanted to open a brewery 10 years ago."
BADASS is being distributed to a hand-selected list of Badlands' favourite bars and bottle-shops from June 17.
Contact Beer & Brewer by clicking here to share your news and views.