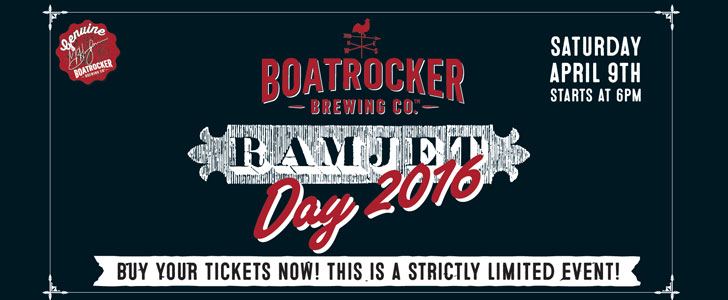 Boatrocker Brewing Co., creators of the highly-awarded beer Ramjet, a whisky barrel-aged Russian imperial stout, is opening up its Barrel Room/Cellar Door to present the inaugural, Ramjet Day 2016.
This exclusive event celebrating the Ramjet 2016 vintage release will be held on Saturday, 9 April and is set to feature a Ramjet vertical tasting, tours, blending experiments and Ramjet-infused food.
"We have decided to create this inaugural event to celebrate the beer that is Ramjet. People have shown great love for a beer that showcases a uniquely Australian-style of barrel-aged imperial stout and we thought it a great opportunity to give lovers of this beer and imperial stouts a chance to enjoy a unique experience, and to stock up on this beer before anyone else," Boatrocker founder and head brewer Matt Houghton told Beer & Brewer.
"The night will start with a welcome pack that includes a one-off Ramjet 2016 T-shirt and a bottle of 2016 Ramjet. Each person receives a Ramjet card, that entitles them to the following: a vertical tasting of Ramjet 2013/14, 2014/15 and 2015/16, Roger Ramjet (the bourbon barrel-aged version of Ramjet), Raspberry Ramjet, Coffee Ramjet and a unique chance to blend the unbarrelled and barrelled version of Ramjet with a shot of Starward Whisky, plus Ramjet-inspired food (Ramjet mash crackers with stilton, Ramjet beeramisu, etc.) and a chance to buy more Ramjet for their cellar before anyone else."
Boatrocker is renowned for its cellar-before-release ethos of beers and put away a number of cases of the first release Ramjet for such an event. This has meant guests will get an exclusive chance to do a vertical tasting of all vintages of Ramjet, as well as try the super-limited Roger Ramjet 2015 and even taste some never before released variants.
Ramjet 2016 is, of course, the star of the night and will be the strongest vintage to date.
"Ramjet 2016 is the biggest ABV-wise yet! Sitting at 11.4 per cent, this beer was packed in late 2015 and will have aged for nearly six months in bottle," Houghton said.
"The classic aromatics of chocolate, coffee and whisky are stunning, with a nice warmth from the Starward Whisky. This Ramjet offers the hoarder a chance to have a cracking cellar beer, but also one that drinks delightfully now."
Ramjet was recently named Australia's Top Beer for 2015 by popular beer review website, RateBeer, which tallied nearly one million reviews from 2015 to form its RateBeer Best Awards.
As to why Ramjet has been so successful and developed such a cult following, Houghton believes its Australian heritage is key.
"I think Ramjet's success is due to it showcasing a uniquely Australian style of barrel-aged imperial stout. Aged in Starward Whisky barrels, a uniquely Australian whisky, the flavour and character of this beer is big and bold, but refined. And the name sounds pretty neat as well," he said.
Ramjet Day 2016 will be held on Saturday, 9 April at 6pm. Tickets cost $150 and are limited, so to secure your spot at one of the most exciting events this year, click here.