Joe White Maltings has unveiled a ground breaking new range of infused malts developed by its Belgian affiliate, Belgomalt.
The Creative Series comprises malts that have been infused with ingredients such as spices and botanicals during the traditional malting process.
These ingredients are therefore transferred into the heart of the grain, resulting in a layered and complex expression of their flavours and aromas in the final beer or whisky.
Expat Australian brewer Cristal Peck came up with the idea soon after joining Belgomalt in Antwerp, Belgium in December 2019.
"When I started as a maltster, I dreamed about adding exotic and exciting ingredients into the malting process and I wondered what effect such an approach would have on the final malt produced," Cristal said – who is pictured below with Sailors Grave Brewing's Chris White.
"Everyone gets fixated on yeast strains or hops. But as a brewer myself, I have always taken a lot of time building my recipes and malt is the stage you set your recipe with."
After experimenting with many different ingredients, Cristal was excited to discover that the technique was successful in creating an entirely new and unique malt product.
"I keep finding myself saying that 'one plus one equals three' with these infusion malts," she said.
"What I've found is that the ingredients infused during malting are much more integrated into the matrix of the finished product than would otherwise be possible.
"And, there are other aromas and flavours that seem to be present beyond what was added."
Already in the Creative Series are four different variants: Winter Infusion, Lavender & Orange, Sage & Thyme and Gingerbread Cookie.
Gingerbread Cookie is the first infusion malt to be scaled up to a larger batch size. It offers warming aromas of cinnamon and ginger, balanced with nutmeg, allspice, clove and a subtle touch of black pepper.
"Gingerbread Cookie features six ingredients, which is a bit radical, but that was my first production batch and I wanted to do something decadent."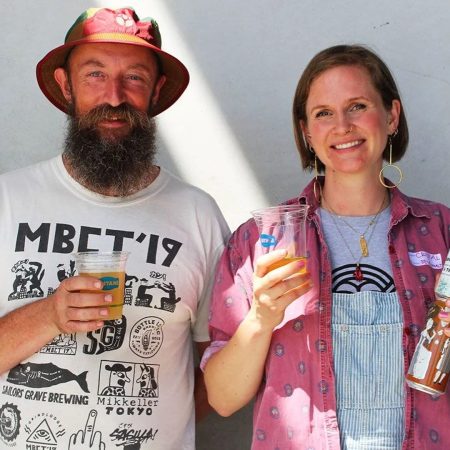 Victoria's Sailors Grave was the first Australian brewery to experiment with the Gingerbread Cookie malt, deployed to great success in Let Them Eat Cake, an "imperial pastry field beer" containing local organic carrots.
"We were curious to see what the difference would be, using a malt that had undergone some sort of transformative process during the malting, versus the traditional addition of spices in the kettle or the fermenter," Sailors Grave owner and head brewer Chris White said.
"We were very pleased with the result. The character of the spices was more embedded in the beer and had a deeper, more nuanced character than could otherwise be achieved."
Chris is eager to get its hands on the other variants like Lavender & Orange, as Sailors Grave has worked extensively with citrus additions in the past.
"I'm keen to experiment with combining the citrus-infused malt with fresh juice and peel in the fermenter, to get a really big spectrum of citrus character," he added.
Cristal recommended that brewers use between 10% and 40% of the Gingerbread Cookie malt inclusion in their grist.
"The diastatic power of the malt is medium, so we recommend the inclusion of a good enzymatic malt as well as yeast nutrient to ensure yeast vigour during fermentation."
The Belgomalt Creative Series is available now. Contact your local Joe White distributor with any enquiries.
This is a sponsored content piece. To find out more talk to the Beer & Brewer sales manager.