Several key players in Melbourne's beer and drinks community have banded together to nourish the stomachs and minds of unemployed hospitality workers following the collapse of their industry.
The COVID-19 EAD (Employee Assistance Directive) was put together by Jason Chan from South Melbourne beer bar Hats n Tatts and Henry Le from the Ends and Means cocktail bar.
It started as an idea to help feed their co-workers who were all suddenly out of work when the Coronavirus hit.
Now, in a few short weeks, it has turned into an outreach program and its army of volunteers have already driven thousands of kilometres to deliver about 3,500 meals to over 1,000 out-of-work hospitality workers – many of whom are ineligible for stimulus payments like JobKeepers or JobSeekers because they hold foreign visas. The aim now is to produce and deliver 2,300 meals a week and ensure the "mental fitness" of out-of-work hospitality workers is nurtured.
To donate, head here. The charity's founders say as little as $20 will support a hospitality worker in need for weeks.
"Henry and I thought we would just be feeding 10 to 20 people from our venues. Almost straight away that leapt to hundreds as even those eligible for benefits weren't getting them as they hadn't kicked in yet," Jason said.
"In the early days of this no questions were asked – if you worked in hospitality we were there to help you.
"And then the suppliers started coming out of the woodwork to get behind us. We had catering firms and the like who had stock to use up that was otherwise going to go to waste.
"The food banks OzHarvest and FareShare have been amazing – as have all of our suppliers and volunteers. And now the Go Fund Me page is bringing in donations that we can use to buy other supplies."
Chan stressed this initiative wasn't just about filling hungry stomachs, but is equally designed to keep isolated, out-of-work people connected and their well-being protected.
"We will continue this for as long as it takes. There are vulnerable people out there and that will continue for long down the line."
SUPPORT FROM COLONIAL BREWING CO.
Port Melbourne's Colonial Brewing Co are also involved and are donating stacks of their beers each week to the charity for them to use as a thank you to suppliers and volunteers.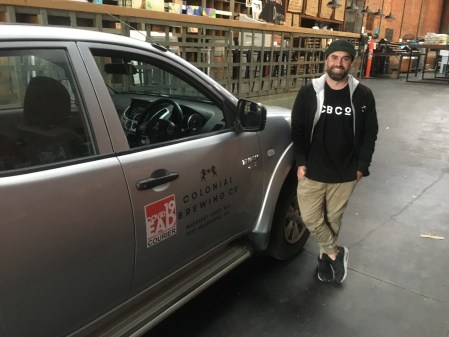 Their national operations manager Jarrod Stivala said it was a natural and easy decision to get on board after having a long, and solid relationship with Chan from Hats n Tatts.
"When the pandemic broke out we chatted and went through what he and Henry wanted to do. I didn't have to think about it long. We wanted to give back the support Hats n Tatts had shown Colonial – but more importantly the wider hospitality industry that we rely on," Stivala said.
"The real heroes in this are Jason and Henry and their teams of suppliers and volunteers. These guys have lost their jobs in some cases but they are out there helping people out.
"Any donations they can get will go a very long way to help out hospo workers who currently can't pay rent – they can't pay for food."
The charity produces a range of chef-cooked, pre-packaged meals which are then distributed via contact-less delivery (currently delivering in a 15km radius from the Melbourne CBD). All of the meals are free of charge and cater to vegans, vegetarians, coeliacs and those who are nut and lactose allergic/intolerant.
The unit cost of producing and delivering a single adult serving size meal ranges between $1 and $3 depending on protein content and dietary requirements.
At their current scale, even $1 will put a meal in the hands of someone who needs support.
Head to the Go Fund Me page here to show your support.
Contact Beer & Brewer by clicking here to share your news and views.