At times last year it didn't come much harder in the Australian beer and brewing industry than being a brewery located in the Victorian High Country. If the bushfires of Summer 2019/20 weren't hard enough the extended lockdowns brought on by COVID-19 must have felt like the final straw for the outlying tourist destination.
But since November, when the last of Victoria's major restrictions on the movement of people within the state were lifted, hope has officially returned and the area is once again bustling with visitors.
Bright Brewery's Laura Gray said they had seen massive tourist numbers throughout Summer and that trend was continuing now that Autumn had arrived – when the alpine region's beauty is perhaps never better on display.
But the fact they are still open and operating to take advantage of the rise in tourist numbers is partially in thanks to their subscription-based beer club – one of the longest running in the country.
Bright will celebrate their 15th anniversary later this year and their Mash Club has been continuously operating for much of that time.
"We were in a pretty fortunate position in many ways when COVID struck as we already had our webshop up and running and we already had the beer club in existence as well," Laura said. "We weren't scrambling to sort of start from scratch. It was already there."
Now Mash Club has been revamped and reinvigorated with multiple new offerings and benefits to better reflect its customer base. There are now six different box options and incentives like "the more you buy, the more you save" and online and in-brewery discounts for members.
"We're really thrilled with the take up. It's taken off, not just with people who were previously members but with those who have jumped on board as it better suited what they were looking for.
"In its previous iteration the Mash Club hadn't really changed in at least the last six years – prices included. Subscribers were getting no choice on beer styles, frequency or size. It was really a one size club and it didn't fit a lot of people.
"We decided our priority would be to give people a lot more choice, a lot more flexibility and as many options as we could to make sure that Mash Club would work for them."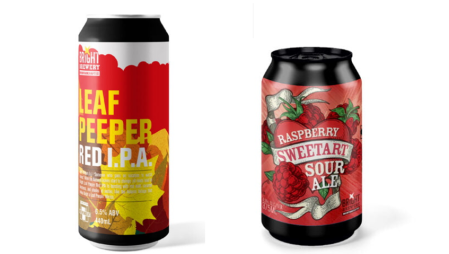 What will no doubt work for them, and anyone else for that matter, are two of Bright's new release beers – the Leaf Peeper Red IPA (6.5%) and the Raspberry Sweetart Sour (4.3%).
Leaf peeping – or the hobby of reveling in the colours of Autumnal foliage – is probably a particularly popular pastime in Bright at this time of year and it now has a beer named in its honour.
Red IPAs are the current go-to for many as the days grow cold and the leaves turn from yellow to red and the Leaf Peeper's fruity resinous hops are beautifully balanced by its caramel malts and firm bitterness.
Meanwhile, Bright's original Sweetart – the Raspberry sour – makes its return but this time with 50 per cent more fruit. It's been kettle soured with lactobacillus while raspberry puree is added in both the kettle and during maturation.
The fruit's tartness and tang is well on display but the balance with a gentle sweetness and dry finish makes for effortless drinking.