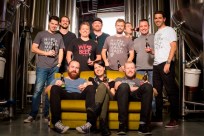 Traditionally known for its stunning beaches, awesome swells and relaxed lifestyle, there is now another reason to envy Sydney's Northern Beaches, with the region fast becoming a burgeoning craft beer hub.
In the last couple of months alone two exciting new microbreweries Modus Operandi Brewing Co. and Nomad Brewing Co. have swung open their doors, and the taps have been flowing ever since.
A New M.O.
Since opening on 30 July with just a 'now open' sign out the front and a Facebook post the day before, Modus Operandi Brewing Co., a craft brewery, bar and restaurant, has proved a roaring success. Located in Northern Beaches suburb Mona Vale, Modus Operandi is the brainchild of husband and wife team Grant and Jaz Wearin, who have joined forces with head brewer DJ McCready, former senior brewer and head of the specialty beer program at Oskar Blues Brewery in North Carolina, USA, as well as Connor Avery, a young, up and coming head chef.
"The reaction to the beer and food quality has been excellent. People have been pulling us both aside to tell us how much they've enjoyed it and will be back," Jaz said. "We are really excited with the public reaction particularly given it has only been advertised via word of mouth and social media."
Modus Operandi is currently pouring nine handcrafted beers on tap, along with their dry apple and ginger cider. The team plan to move to 12 taps in future and will incorporate a barrel ageing program. The current range includes; Kite Flyer Cream Ale, MOFOS (Modus Operandi Funky Orange Saison), Pepper in the Rye Saison, M.O.na Pale, Former Tenant Red IPA, Zoo Feeder IPA and the recently-released Summer Ale (yet to be named) and 330 Black Coffee Lager (5% ABV). Brewed in conjunction with local coffee roasters Coffee Brothers from their volcanic Vanuatu blend of coffee from Tana Island, the lager is dry beaned with freshly roasted beans to release a huge up front coffee aroma with a crisp lager finish. While the Summer Ale (4.5% ABV) is a fruit bomb of aromatic US hops brewed with a huge mango nose.
"We are soon to release our barrel aged porter, aged in single malt whisky barrels sourced from Lark distillery in Tasmania," Jaz said. "We are a progressive brewery with a progressive brewer."
The artisan approach continues through to the kitchen with head chef Connor Avery making all of the breads, dough, chutneys, sauces and desserts from scratch on site, with many of the items crafted from the brewery's own beer and yeast.
"We wanted our food to be just as honest and fresh as our beers and fortunately we found just the chef! Connor Avery is a young talented local chef who has blown us away with his home-made creations," said Jaz.
The menu ranges from cheese and antipasto plates, through to American fare such as chicken wings and ribs, to stone-fired pizzas and even beer-inspired desserts such as porter sticky date pudding and saison soaked apples with crunchy crumble.
It has taken about two years from idea progression to the doors opening and less than six months for the brewery to open after taking over the premises.
"It has been a high intensity effort over a significant period of time but to see the tables full, great feedback on our entire range of beers and not to mention the food, makes it well worthwhile," said Jaz. "Sounds clichéd, yes, but this is our life now and we want to always do things right. Honest. Local. Fresh. It's our M.O."
With glass growlers and squealers, as well as Modus Operandi's new CANimals (squealer sized cans – see pg 10) available, you can even enjoy fresh Mona Vale brewed beer once you've dusted off the sand and headed home.
The Nomad Lifestyle
Not far from Modus Operandi is Nomad Brewing Co., which is the latest brewery to open in the region. Located in Brookvale, Nomad is a collaboration between Leonardo di Vincenzo from Birra del Borgo fame and Johnny Latta and Kerrie Abba from Experienceit Beverages.
"The idea started with a conversation between Leo and Kerrie one day about the growth of the craft beer industry in Australia and Leo was keen to get involved. Initially we thought about a small venue but this soon grew into the idea of a brewery!" said Abba.
The idea of this brewery is to bring great European brewing knowledge and experience to Australia as well as make beers using Australian native ingredients.
"The aim of the brewery is of course to produce great beers but also to look at helping change the Australian beer drinking culture. In Europe beer is appreciated for what it is, the complexities of tastes and aromas that match perfectly with food," said Abba.
Nomad has launched with three initial core beers; Sideways Pale Ale, Jetlag IPA and Long Trip Saison, which are all available in kegs and bottles.
"As well as these core beers there will be a series of seasonals and special beers available and expect some great barrel aged beers as we have a grappa barrel brought all the way from Italy for this purpose," Abba said. "Reactions have been fantastic as we already have two of the three core beers in many venues such as Frankie's, The Local Taphouse, Brooklyn Central and Flat Rock Brew Café."
Nomad is complete with a 'Transit Lounge' which is a great little space where people can come in and have a beer at the custom-made bar looking out over the brewery and chat to the brewer boys and the Nomad team about the beers.
"There has been so much work in the lead up but now to start seeing the results it is incredibly exciting," said Abba. "Seeing the kegs rolling out, watching the bottling line operating and all the Nomad beers ready and labelled it really does make the penny drop!"
Nomad is open every afternoon for people to try the beers and take away a growler or buy bottles.
A surf, a pie and the search for good craft beer
Of course the original Northern Beaches brewery, and arguably one of Australia's finest breweries, is 4 Pines. Recently celebrating its sixth birthday, the 4 Pines seed was planted after a surf, a pie and the search for good craft beer. 4 Pines founder Jaron Mitchell moved to Sydney in 2004 from WA's Margaret River and it was when his dad was visiting a couple of years later that talk of a microbrewery began.
"It was actually my old man, he was over visiting and yeah we just had a surf and we wrapped up and went to this great little hand-crafted pie shop on the Northern Beaches here and we were just sitting having a pie and he said, "'Alright where do we go to get a good beer now?' and I said 'Dad it's Sydney, you don't get a good beer in here.' As it was all stock standard fare on taps in almost all the pubs. The Margaret region and WA were a little bit more evolved at that time."
"It came down to where do we go to get a good beer. So we put our heads down, my folks and me and my brother, my girlfriend Sheree who is now my wife, so it was quite a good core, so yeah we put our heads down and 18-24 months later 4 Pines in Manly opened," Mitchell explained.
Of course it was a slightly different scene back then with the craft beer movement growing in strides since 4 Pines' inception.
"When we first started and I was telling my mates we were starting up a microbrewery in Manly I reckon that, not kidding you, but probably only about 25 per cent of them actually knew what that was," said Mitchell. "While if you said now you were starting a microbrewery in Manly, you'd think most of your friends would know exactly what you're talking about. Being part of the changing movement for the past five or six or so years brewing has been really rewarding."
Over the years, 4 Pines has expanded with the original brewpub perched opposite Manly Wharf, joined by a brewery in Brookvale in 2012, which continues to grow.
"There's tonnes going on at the moment. Our site in Brookvale is continuing to expand. We just got another shed, our third shed," said Mitchell. "We just packaged our first lot of Pale Ale in 500ml bottles, we're doing Kolsch as well next week so the Kolsch and Pale Ale 500s will be ready to go for summer. That's quite fun, different kind of drinking occasion, some people want one or two big bottles instead of a six-pack."
Reflecting on the past six years, there are numerous achievements for Mitchell that resonate.
"But the biggest one that really comes to mind would definitely be the opening of the venue and absolutely when we first had our beer packaged and I suppose our first wholesale sales. Then the building of our new brewery in Brookvale that's definitely been a huge milestone," he said. "They're probably the key milestones but then you know every day is a milestone really to be completely honest. It's a constant evolving journey. I suppose where we are today, six or so years later it's really a combination of thousands of little milestones."
As for whether he would change anything or do anything differently Mitchell believes that while he'd probably stress less and surf more, the stress is part of the excitement that comes with small business.
"Yeah you'd probably stress less but then you would get less excited to get up every day too. That would be one thing I'd tell myself six years ago, I suppose… yeah I've made tonnes of mistakes along the way, you know for every 10 things I've start working on probably two would really eventuate. Had your time again you wouldn't do that again right? Have time to go on holidays," he said. "But you know small businesses are only successful if they are prepared to try things and fail and keep on going and yeah so the things I tell myself are actually kind of the things that being a small business in the brewing industry makes it kind of fun and exciting at the same time."
Dave's Brewery Tours
Dave's Brewery Tours host a 'Northern Exposure' tour, which takes craft beer lovers to Modus Operandi, Nomad Brewing Co. and 4 Pines, as well as The Collaroy Beach Hotel for lunch and finishing at the Royal Albert Hotel in Surry Hills. The seven-hour froth filled tour is a great way for craft enthusiasts to enjoy the brewing fruits of Northern Beaches, without having to argue over who's going to drive.