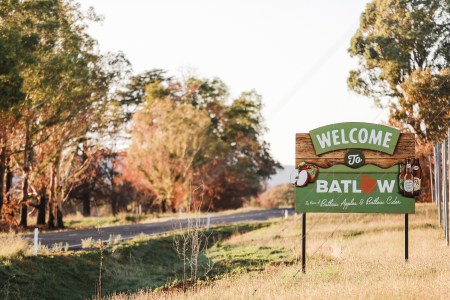 Batlow Cider is auctioning off the first box of the new season's Batlow apples to raise money to rebuild the town of Batlow, NSW.
Batlow was devastated by bushfires in early January, with the situation described as "undefendable" by the Rural Fire Services (RFS) at one point.
However, due to the efforts of locals and the RFS, only 20 homes and 20% of the apple orchards were lost.
However, given that Batlow apples make up 55% of all apples in produced in New South Wales – and 11% of apples produced across Australia – this still represented a significant loss.
"There are more than 20 apple growers in Batlow who supply to Batlow Apples and almost all of them had their orchards damaged in the bushfires," says Batlow apple grower Greg Mouat. "Some suffered damage to about 5% of their orchards, while others had up to 40% damaged."
Since the fires, the Batlow community has been getting back onto its feet. The new season Royal Gala apples are being picked and delivered as proof of that recovery.
Batlow Cider has been offering Karma Kegs to venues across the country – including The Salisbury, Applejack Group and The Whitehouse Group – and has so far raised $27,000.
The latest initiative, which went live on Friday 28 March, will see the first box of new season apples being auctioned via the platform eBay.
All proceeds will be donated to the Regrow Batlow GoFundMe page. 100% of the funds will be directed to the people that need it most in the town of Batlow, with no admin costs associated.
Sharni Williams, Batlow resident and star on the Womens Rugby7s team and Gold Medal Olympian, will be fronting the auction.
The online auction is open now and ends on Friday 6 March at 5pm.